Growth of middle class means major changes for China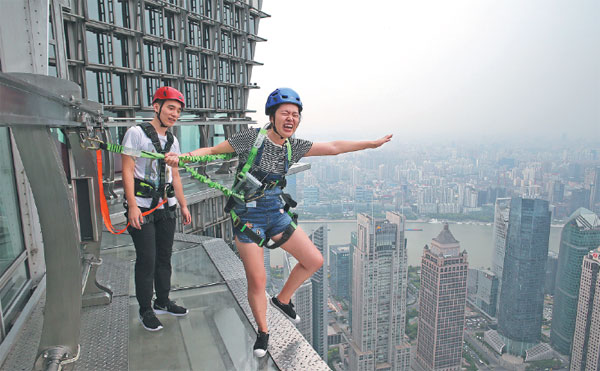 A tourist takes a skywalk at a barrier-free access, which is 340 meters above the ground, at the Jin Mao Tower, an 88-story skyscraper in Shanghai. Gao Erqiang / China Daily
Substance, not style, increasingly important for nation's shoppers
China's middle class is expanding at an unprecedented pace.
According to McKinsey & Co, by 2020 more than three-quarters of China's urban consumers will earn 60,000 yuan to 229,000 yuan ($9,037 to $34,495) per year. That translates into nearly 400 million people who are considered by the consultancy to fall into the middle-class category.
And thanks to a surging number of higher-paying jobs in service and technology industries, 54 percent of them will be classified as "upper middle" class, meaning they have an annual income between 106,000 yuan and 229,000 yuan.
Beneath the topline figures are some significant shifts in consumption dynamics. Using income as the only indicator of spending habits allows some information to slip through the cracks.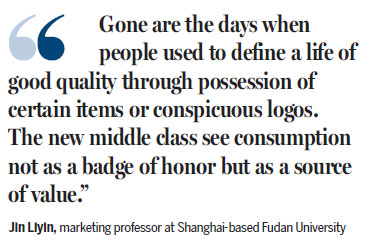 Research co-conducted by Chinese news service CBN Weekly and Japanese apparel brand Uniqlo uncovered the consumption pattern of the country's new middle class, who are able and willing to pay a premium for quality and consider buying discretionary goods.
The survey, released in August, polled more than 12,000 respondents aged 20 to 45 across the relatively wealthy first- and second-tier cities. Minimum monthly income was set at 8,000 yuan.
Respondents showed a preference for products with good craftsmanship, with 84 percent favoring quality over price.
That said, more than 70 percent believed they shop more "rationally", meaning that despite loyalty to established brands, they are open to a variety of schools of thought and not necessarily going for biglogo items.
Jin Liyin, marketing professor at Shanghai-based Fudan University, attributed the changing attitude toward brands to the evolving benefit structure: from more blatant status projection to more substance-driven.
"Gone are the days when people used to define a life of good quality through possession of certain items or conspicuous logos," Jin said. "The new middle class see consumption not as a badge of honor but as a source of value."
Quality life must be built around personal choices and filled with one's individual traits, the report said. Corporate social responsibilities borne by brands would be factored in when they shop.
Meanwhile, this group of consumers are more than ever seeking emotional satisfaction through better taste or higher status. For instance, a store's ambience may serve as a catalyst for an impulse purchase, according to the research.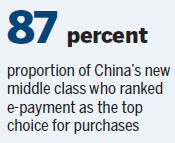 China's new middle class tend to place health high up the ladder of priorities. More than 70 percent said they would develop sporting habits and adjust their daily routine for a balance of work and rest.
To be more specific, 73 percent said they have set aside money in their budgets for sports apparel, workout facilities and organic food.
Also on top of their radar are arts and leisure; two thirds reported allocating more money on the sector. About 72 percent said they saw "incremental" growth in travel spending.
And the increasing expenditure goes to more sophisticated and experiential activities, according to a report by consultancy Oliver Wyman, which showcased that overall trip spending surged against a precarious drop dedicated to shopping when the Chinese travel overseas last year.
"Chinese travelers continue to shift their spending toward more meaningful experiences, such as exquisite dining, extraordinary cultural journeys and even adventurous sports," said Hunter Williams, a partner at Oliver Wyman.
And they are among the most earnest to embrace digital wallets. An overwhelming 87 percent ranked e-payment as the top choice for purchases, while 83 percent use the payment method on a daily basis.
Newsfeeds provided by brands via mobile communication platforms are well received by the people, with four in five saying they are prone to making purchase decisions based on merchants' recommendations through precise marketing endeavors.
"You see a shifting definition of success from money, power and social status, to the pursuit of well-being and personal realization. That's what defines the new middle class," Jin said.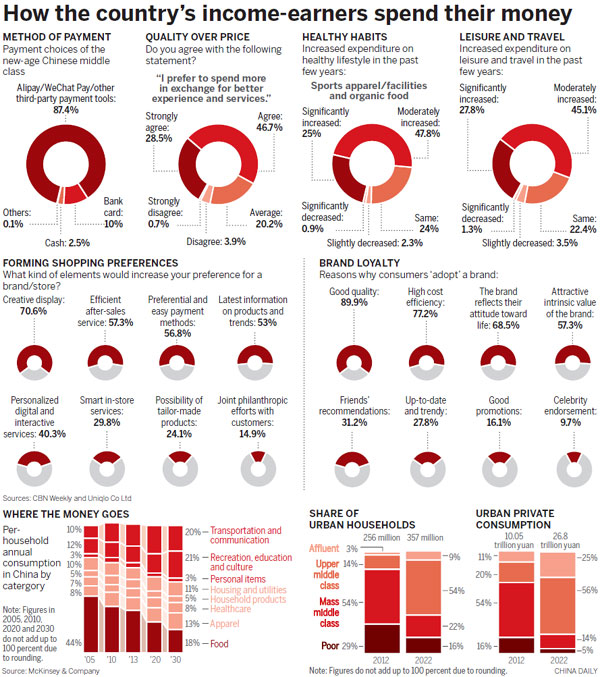 Editor's picks