International programs to improve China's role
China aimed to shape the world economic order through big international projects, according to a report on British news website bbc.com.
China promoted economic globalization, opposed trade protectionism while pushing ahead cooperation with emerging economies and developing countries in meetings such as the Belt and Road Summit, according to the report.
The Belt and Road Initiative proposed by China was called a "huge ambitious vision" by Jim Yong Kim, the president of the World Bank, who said China is stepping into a much larger leadership role.
Five global programs were then listed and analyzed based on their importance in the trade links between China and other countries and regions. Here, we take a look at the programs.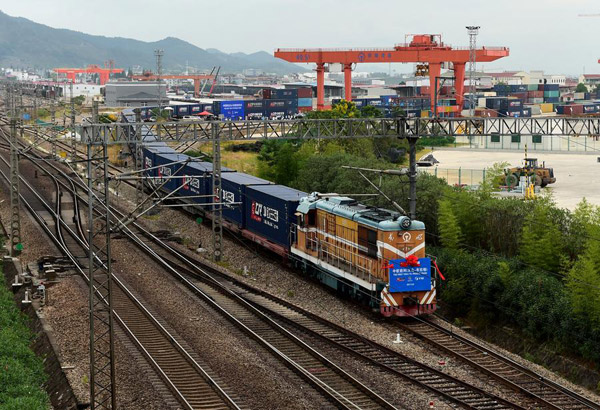 A train loaded with 88 containers of cloth, clothing, shoes, hats and Christmas items leaves East China's Yiwu city on Sept 9, 2017 for Prague, the Czech Republic. [Photo/Xinhua]
1. China-Europe freight trains
China operates many rail freight services to European cities, including Madrid, London, Hamburg and Warsaw.
China plans 51 freight service lines, linking 28 Chinese cities to 29 cities in 11 European countries, according to Xinhua News Agency. Earlier this year, a direct rail freight service was launched from Yiwu, Zhejiang province, to London.
China also plans to improve the network. A high-speed railway line linking Beijing to Moscow is on the table. The line will shorten the 7,000-kilomter distance to less than 30 hours.
Related stories:
China, Russia freight train delivers success, 17,000 tonnes of cargo
New China-Europe freight train links Central China and Munich

Editor's picks