Report: Employment market picks up in Q2
China's job market picked up slightly in the second quarter thanks to service sector growth and will continue its uptrend in the third quarter, according to a recent report by recruitment website Zhaopin.
The CIER index, designed to monitor China's job climate, increased from 1.91 in the first quarter this year to 2.26 in the second, revealing a stable, and strengthening, picture for the market, the report said. By comparison, the second quarter index last year stood at 1.93.
The index, developed by the China Institute for Employment Research and Zhaopin, is the number of job vacancies divided by the number of job seekers. A reading above 1 means that labor demand outstrips labor supply.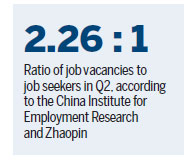 The report said the uptrend is the result of rising demand for labor and a decline in the number of job applicants.
In the first quarter, the Chinese economy continued to expand steadily, with GDP up 6.9 percent year-on-year and tertiary industry growth increasing 7.7 percent. There was clear growth in the high-tech manufacturing and online retail sectors as well. All these contributed to an increase in demand for labor, the report said.
The second quarter is generally a slack season for job-hopping in China and some university graduates have chosen to delay looking for work. Both factors have brought down the number of job applicants, said Wang Yixin, a senior vocational counselor at Zhaopin.
Across a range of company sizes, all experienced growth except microenterprises, which saw a decline of 0.4 percentage points, and the labor demand from them increased only 29 percent, less than larger enterprises, according to the report.
"Most microenterprises are in the startup phase of business and are facing great risks in surviving their growing operating costs and capital shortages," Wang said.
The unemployment rate in Chinese cities stood at 3.95 percent at the end of the second quarter, the lowest level in recent years.
The figure was slightly down from the first quarter's 3.97 percent, but was lower than the 4.05 percent in the same period last year, according to Ministry of Human Resources and Social Security.
In the past five years, China has seen more than 13 million new jobs created for urban residents each year, with the country's registered urban unemployment rate lower than 4.1 percent.
China has set a target of 11 million new jobs in urban areas this year, as an estimated 15 million workers, including nearly 8 million college graduates, are expected to enter the urban job market.