Historic Shanghai temple's slow odyssey complete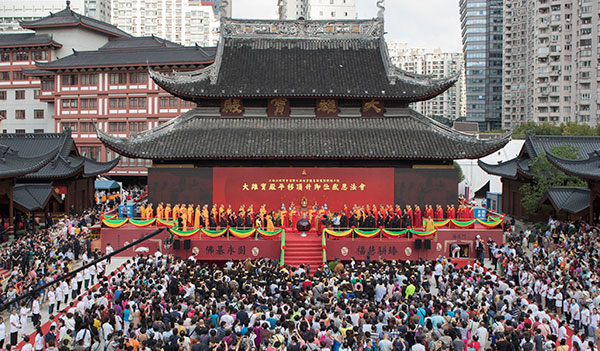 Tourists and monks attend a ceremony of gratitude at the Grand Hall of the Jade Buddha Temple in Shanghai on Sunday. The hall was moved 31 meters north and raised 1 meter. [Gao Erqiang/China Daily]
Work to move the Grand Hall of Shanghai's Jade Buddha Temple 31 meters north and raise it 1 meter from the place it has stood for almost century was completed on Sunday.
The temple was first built in 1882 on the outskirts of Shanghai. It is named for the two jade Buddha statues it houses. Destroyed by fire, it was reconstructed in 1918 at its current downtown location.
Abbots of the temple decided to relocate the saffron-painted Grand Hall three years ago because of safety concerns and to protect the wooden structure. The temple welcomes about 2 million visitors a year, and daily visitors on occasions such as Chinese New Year Eve can top 100,000.
A special ceremony attended by monks, abbots and thousands of Buddhist faithful was held on Sunday morning to celebrate the successful relocation of the hall after two weeks of work.
The 2,000-metric-ton structure was moved together with three clay Buddha sculptures and other relics it contained.
"The challenge was like walking and carrying a tray of tofu to a destination," said Lan Wuji, founder of Evolution Shift, the company behind the project, which also handled the relocation of Shanghai Music Hall in 2003.
Lan said because the temple was built much earlier and there were no schematics, its move was a much more difficult job than the relocation of the music hall.
It was later found, through radar technology, that the foundation of the Grand Hall was made from rocks glued together with a mixture of lime and glutinous rice, rather than cement or steel.
Ten rails were created along which the hall was moved to its new site at a speed of 3 centimeters per minute. Forty-six hydraulic jacks were placed under the foundation to lift the entire structure off the ground.
Around 20,000 bricks will be used to fill the gap below the structure, as it is now 1 meter higher than before. Members of the public can pay 200 yuan ($30) to have their name inscribed on one of the bricks before the end of September, when they will be inserted.
After the new foundation is complete, a bell and drum tower, as well as a hall dedicated to Kuan Yin, the goddess of mercy, will be added to the Grand Hall to complete the temple's function and architectural style, a typical Buddhist temple in East China.
The whole renovation is expected to be finished in the first part of next year.