Murdered farmer's heroism honored
A thousand kilograms of overripe melons sold out in less than 10 hours to honor a melon farmer who was stabbed to death in Hebei province.
Cui Jingxiang, 47, was killed by gang members at a market fair in Langfang's Anci district on July 23 for warning others about them, the police said.
Six suspects have been arrested in connection with the murder.
Cui was the head of a family of six, including his wife, mother and a daughter who recently graduated from college.
The family's main source of income was a melon farm of just 0.4 hectares. "After my father died, the melons were left and were going bad, so they were hard to sell," said Cui Quanzheng, the victim's son.
Cui Jingxiang was seen as a hero for warning people at the fair about the gang.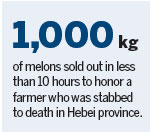 His family's financial struggles were reported by a local newspaper on July 28. The report went viral on WeChat, which prompted hundreds of residents to buy the melons to help.
Cui was well-known for being helpful - even heroic. He was once beaten by thieves at a Beijing wholesale market after warning customers to watch out for them.
Another time, he saved the life of a 2-year-old boy by rushing him to the hospital after the child was attacked by a dog. Several years ago, he also helped a taxi driver who had been injured in a robbery.
On Tuesday, the Anci district government awarded Cui hero status and granted his family 100,000 yuan ($15,000).
In recent years, the family borrowed 300,000 yuan to build a greenhouse, pay the medical bills of Cui's mother and cover the cost of university tuition for his daughter. A total of 80,000 yuan is still to be repaid.
However, locals have pitched in to help with an array of activities. On July 30, an archery contest was held in the city. Instead of medals, winners were awarded melons. A local gym also said it would donate 100 yuan to Cui's family for every gym card it sold.
A volunteer organization bought all the remaining melons from this year's crop.
"Money sent. No need to deliver the melons. We can't allow a good Samaritan's family to suffer," said a WeChat user who donated 20 yuan.
Another WeChat user, who purchased 20 yuan of melons, said he was touched by Cui's actions.
"Please accept my respect. I hope the criminals are severely punished by the law," the netizen said.
As of July 31, people had donated more than 35,000 yuan to the family.
Xinhua