Typhoon Nesat makes landfall in east China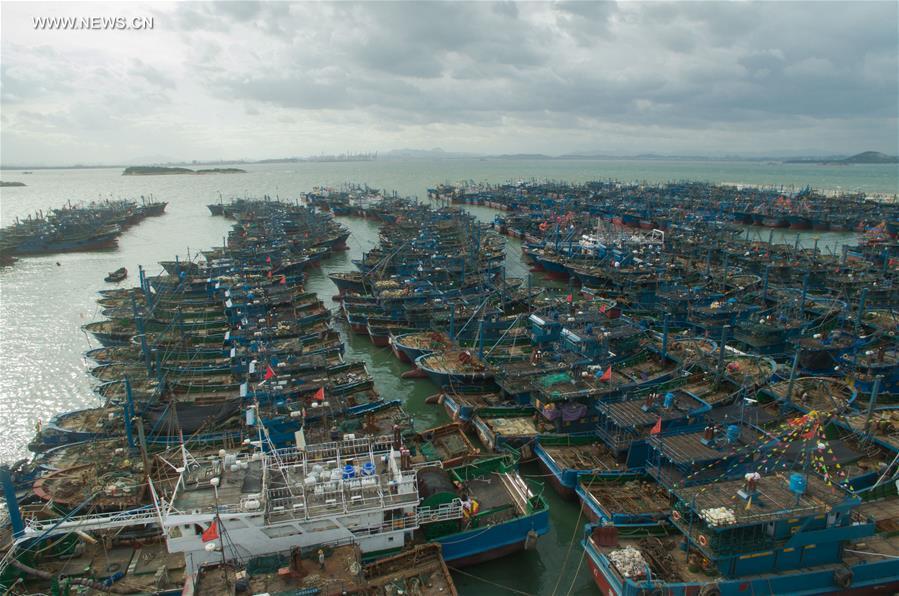 Boats anchor in the fishing port before the typhoon Nesat, the ninth typhoon this year, arrives in Shishi city of east China's Fujian Province July 29, 2017. Fujian meteorological station said the 10th typhoon had been also formed and was expected to land late Sunday or early next Monday in central to northern Fujian. [Photo/Xinhua]
Latest update
Typhoon Nesat makes landfall in east China
FUZHOU - Typhoon Nesat, the ninth typhoon of the year, made landfall in southeast China's Fujian Province on Sunday morning.
Nesat, packing maximum winds of up to 33 meters per second at its center, landed at coastal Fuqing City at around 6 a.m. after travelling across Pingtan Island, according to meteorological authorities.
Previous coverage
China evacuates thousands as Typhoon Nesat approaches
FUZHOU, July 29 (Xinhua) - More than 3,100 people have been evacuated as eastern China's Fujian Province braces for the impact of Typhoon Nesat.
Fujian meteorological station said Nesat was expected to make landfall in Taiwan Saturday and might land in the form of a typhoon or strong tropical storm in Fujian early Sunday.
By Saturday noon, over 3,100 women, children and elderly had taken to the shore from fish farms, the provincial flood control headquarters said.
In Songfeng Village administered by Putian City, Wu Jinxi, head of the village committee, helped evacuate residents.
"Don't come back until you are informed. Just let me know if you have difficulty taking care of your mum at the relocation center," Wu told villager Liu Guoxiang, who was about to temporarily leave his 60-year-old home with his 93-year-old mother.
On Saturday, Nesat, the ninth typhoon this year, was traveling at a speed of 20 kilometers per hour in a northwest direction, packing gusts of wind up to 144 kilometers an hour.
The station said the 10th typhoon had been also formed and was expected to land late Sunday or early next Monday in central to northern Fujian.
The authority warned of torrential rain from Saturday through to next Wednesday due to the impact of dual typhoons. Rain is forecast to be over 500 millimeters in some areas.
China's State Oceanic Administration Friday issued this year's first orange alert for ocean waves off the east coast ahead of Typhoon Nesat.
The administration ordered vessels in affected waters to return to port, personnel to evacuate and related departments to close beach entertainment facilities.
As of 5 pm Saturday, nearly 1,300 fishing boats have returned to harbours, according to the provincial flood control headquarters.
At ports of Xiamen City, rescue ships and helicopters are standing by.
The dual typhoons have disrupted traffic in Fujian, forcing all ferry services, 129 train services and 70 inbound and outbound flights at the Fuzhou airport to be canceled.
China has a four-tier color-coded system for severe weather, with red the most serious, followed by orange, yellow and blue.