East swelters while rains lash south
The heat wave has raged on in eastern China over the past two weeks, with Shanghai sweltering under a record high, while the southern coastal regions have been lashed by typhoon-driven rains and gales, the Central Meteorological Center said on Sunday.
Shanghai continued to issue an orange alert, the second highest of four levels, amid the persistent heat wave on Sunday morning. It was the 12th consecutive day of the alert, which could again reach the red level, the Shanghai Municipal Meteorological Center said.
On Friday, Shanghai, China's most populous city, wilted in heat reaching a 145-year record of 40.9 C, the weather center said. It had issued this year's first red alert on Friday.
"New record highs have been set in many other cities, too, like Changshu and Changzhou in Jiangsu province, where temperatures stood at 40 to 41 C on Saturday," Central Meteorological Center chief forecaster Chen Shuang said on Sunday.
Records are expected to be broken again on Monday and Tuesday, when temperatures in Shanghai and neighboring provinces are forecast to reach 41 C.
Lingering subtropical high and hot winds are to blame, Chen said, and Shanghai and vast eastern regions will continue to swelter till the end of the month, when the subtropical belt is forecast to weaken and the weather to shift.
The Central Meteorological Center has issued heat wave alerts for 17 consecutive days, and on Saturday an area of up to 1.84 million square kilometers saw temperatures higher than 35 C.
Many Shanghai residents have traveled to northern, cooler climes for relief.
Short-term bookings at Spring Airlines, headquartered in Shanghai, were 10 percent higher last week than the week before. Passengers headed mainly to southwestern cities like Kunming, Yunnan province, or to northeastern cities.
"The travel peak is always in summer, but Shanghai's lingering heat has motivated more passengers to go away," said airline spokesman Zhang Wu'an on Sunday.
Authorities in eastern areas have suggested that residents, especially children, the elderly and the infirm, avoid staying outdoors for prolonged periods. They suggested workers should receive heat subsidies.
By contrast, the southern coastal provinces of Guangdong and Hainan have been hit by typhoon-driven rains, gales and floods.
One typhoon made landfall on Sunday morning, and the influence will last through Tuesday, Zhang Ling, chief forecaster of the China Meteorological Administration, said on Sunday.
Since Friday morning, four typhoons formed within 34 hours in China's southern seas, indicating the start of the active period of typhoon this year, she said, adding that the southern regions need to prepare for the typhoons in the coming months.
Cang Wei in Nanjing contributed to this story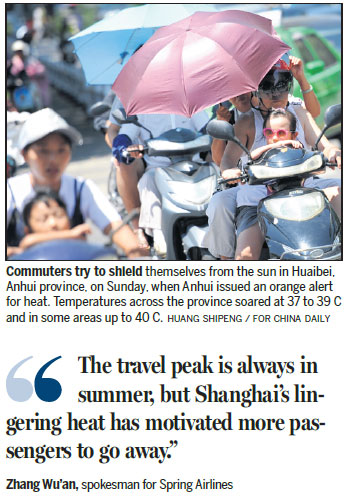 Editor's picks