Bitten woman dies despite rabies vaccine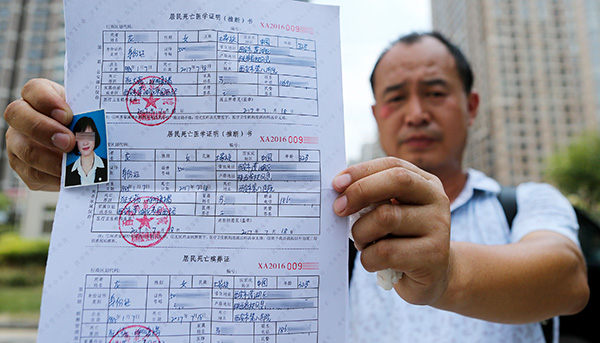 Ma Hongzhou holds the death certificate of his wife, Long Xiuling, in Xi'an, Shaanxi province, on Tuesday. The certificate says Long died of respiratory failure and rabies.[Huang Lijian for China Daily]
The rabies vaccines administered to a 32-year-old woman in Xi'an, Shaanxi province, who died after being infected through a dog bite, were up to standard, according to local health authorities on Thursday.
Long Xiuling, who was bitten by a stray dog on her left ankle on June 20, received medical treatment the same day, including the vaccine and antibiotics, at Xi'an Central Hospital, a major hospital in the city, the Xi'an Health and Family Planning Commission said.
The doctor in the hospital's emergency department who treated Long also advised her to get four more doses of vaccine at intervals until July 18. Long received three vaccinations at the hospital, the commission said.
She suffered symptoms including numbness in her left leg, a sore back and frequent urination and went to the hospital on July 13 for treatment. She did not tell the doctors about the dog bite during that visit, and doctors did not diagnose rabies, the commission said.
Long went to Xijing Hospital, also in Xi'an, on July 17, where she was diagnosed with rabies. She was then transferred to Xi'an Eighth Hospital for treatment, where she died after attempts to save her life failed, the commission said.
The vaccines Long received at Xi'an Central were produced by a certified company and were properly stored and transported, which ensures their quality, the commission said, noting that they were purchased by the provincial disease prevention and control center.
Long went to Xi'an Central at 6:10 pm on June 20 for treatment, about an hour after she was bitten. Her left ankle had multiple bite marks, according to a statement released by the hospital. The doctor gave her treatment for rabies following procedures listed by the National Health and Family Planning Commission, including immediately giving a vaccination, the hospital said.
Cao Hualing, an emergency doctor at the hospital, said there might be several reasons for the ineffectiveness of the vaccine in Long's case.
"The level of virus in the stray dog may have been very high and may have infected Long's neurological system before she received the first dose of vaccine," he said. "Patients with low immune capacity may not be able to resist rabies." In such a case, the vaccine may not work, he said.
The chance of a patient developing rabies symptoms after proper vaccination is only 1 percent, but once a patient gets sick the disease can always lead to death, he added.
Standard treatment in China for dog bites is five doses of vaccine within 28 days. Rabies is incurable and can only be prevented by the vaccine, according to health authorities.
In the first eight months of last year, two people in Beijing developed rabies and both died. About 100,000 people received rabies vaccinations after being injured by animals, according to the Beijing Municipal Commission of Health and Family Planning.