Careful, these toys are really shocking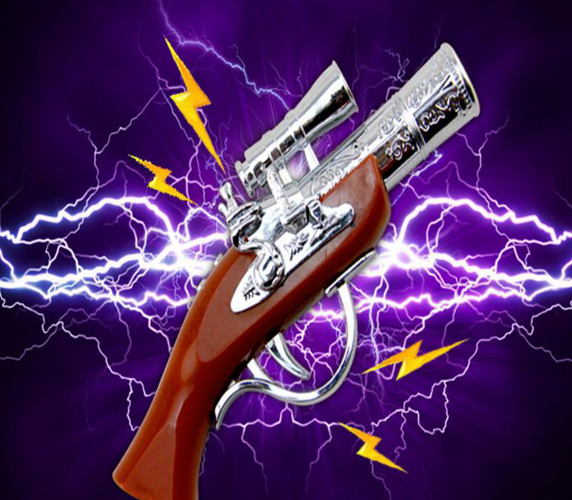 A screen shot of the advertisement of a handgun toy that can deliver electric shock on an online shopping mall.
Chen Guangqiong, a teacher at Paotongshu Primary School in Chengdu, Sichuan province, asked parents of her students on Thursday to keep an eye on what toys their kids are playing with.
Toys that can deliver an electric shock have been found on primary and middle school campuses in parts of the country, she said on WeChat, an instant-messaging app.
The warning came in the wake of media reports that such toys resembling chocolate, ballpoint pens, chewing gum and handguns are being sold in shops near primary and middle schools in the Guangxi Zhuang autonomous region's capital, Nanning.
The toys are inexpensive. A reporter in Nanning spent 70 yuan ($10.30) on a chocolate toy, a pen toy, a chewing gum toy and two handgun toys.
Although there were English words on the packaging warning that the toys could produce electric shocks, no trade name, factory name, factory address or date of manufacture was listed.
One of the toy guns was tested in an electrical laboratory of Nanning-based Guangxi Vocational and Technical Institute by He Jufeng, a senior technician, during an interview by China Central Television.
The gun emitted more than 600 volts upon discharge. Standard electrical current in homes and businesses in China is 220 volts.
According to He, the toy doesn't deliver continuous currents, so a person's body can normally diffuse it easily without lasting damages.
But He said that children and people with heart conditions should avoid such toys to prevent unnecessary risks.
Parents of schoolchildren in some parts of the country have alerted each other to the danger of the toys. According to media reports, the toys have also been found in Henan and Jiangxi provinces.
Xiao Lin, a middle-aged woman whose husband is the principal of a private primary school in Wuhan, Hubei province, said on Friday that many pupils' parents have warned each other through WeChat to prevent their children from playing with the dangerous toys.
It is not the first time that toys have disturbed the parents of schoolchildren.
Last month, a kind of miniature crossbow that shoots toothpicks and needles was found to be popular among primary and middle school students in some parts of the country, including Yunnan, Shandong and Henan provinces.
huangzhiling@chinadaily.com.cn

Editor's picks