Arson suspect held after blaze kills 22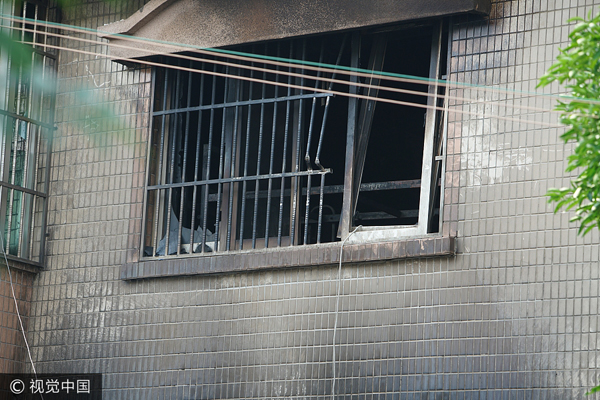 The house is charred after a fire. [Photo/VCG]
Police in Jiangsu province said they have arrested an arson suspect after a fire that engulfed a house claimed 22 lives on Sunday morning.
The fire broke out about 4:30 am in a two-story residential house in Yushan, a town in Changshu, leaving 22 people dead and three others injured, none of whom had life-threatening wounds.
Seventy-one firefighters and 14 firetrucks were dispatched and the blaze was extinguished by 5:30 am.
According to the Jiangsu Provincial Public Security Department, traces of gasoline were found at the scene and all the doors of the building were locked from the outside.
Police identified a suspect, surnamed Jiang, by analyzing the scene and surveillance cameras around the building.
Police said the suspect bad been taken into custody, but they released no further information.
Twenty-four teams with psychologists, legal experts and civil administration workers were sent to help relatives of the victims and the injured.
The State Administration of Work Safety dispatched a team to Changshu for investigation.
The administration ordered the provincial work safety department to cooperate with the Changshu government in aiding the injured and determining the cause of the fire.
Jiangsu's Party chief Li Qiang and Wu Zhenglong, acting governor, hurried to Changsu to assist.
Li said at a news conference in the city on Sunday that information on the fire will be released to the public as soon as possible.
According to local residents, the building served as a dormitory for employees of Siage Private Dishes Restaurant.
Twenty-nine employees, including cooks and waiters, had lived in the 200-square-meter building for more than two years.
Most of the dead were in their 20s and had left their hometowns to find work in Changshu.
Five burn wound specialists have been sent to the local hospital to help treat the injured.
An investigation of the fire is under way.
cangwei@chinadaily.com.cn

Editor's picks