The bird man of Tibet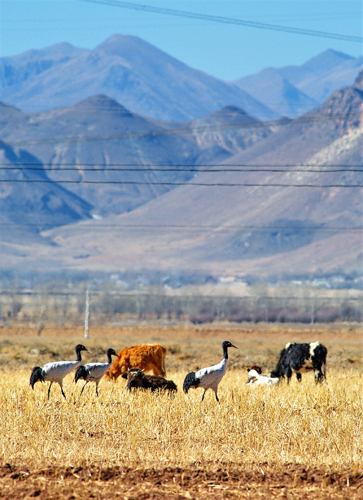 Black-necked cranes are one of the distinct species living on the Qinghai-Tibet Plateau. [Photo/Xinhua]
Ornithologist tastes the high life on plateau home to distinct species
Yandao, 35, had never been to the Qinghai-Tibet Plateau before he joined an observation team on China's second scientific expedition to the plateau in June.
Yandao, a member of the Blang ethnic group, comes from a village in Xishuangbanna, in Southwest China's Yunnan province.
After graduating with a degree in zoology from Southwest Forestry University in 2013, he began work as an ornithologist at the Chinese Academy of Sciences' Kunming Institute of Zoology.
China's first large-scale scientific expedition to the Qinghai-Tibet Plateau was conducted in the 1970s. The second expedition will last five to 10 years, covering more than 50 disciplines including geology, prehistoric life, geophysics, climate, zoology and botany.
Dozens of scientists specializing in different fields have been divided into groups to research the biological diversity of the plateau and draw up a habitat map to be used for preservation and tourism purposes.
When Yandao first arrived in Shuanghu county, in the Tibet autonomous region, at an average altitude of 5,000 meters, he suffered severe altitude sickness.
Despite feeling unwell, Yandao was excited to begin working with his colleagues to collect data on local bird species.
"I am so lucky to have the chance to join this expedition," Yandao said.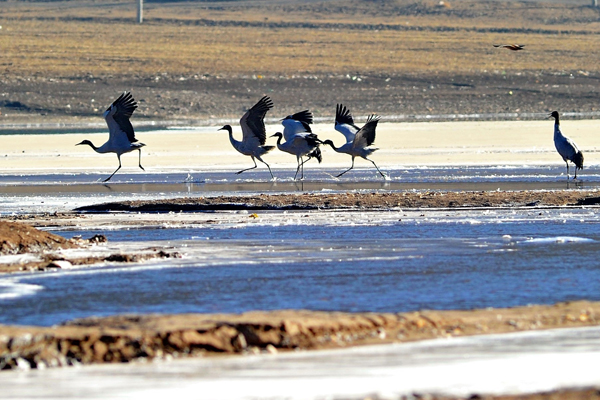 A large number of water birds, such as black-necked cranes and bar-headed geese, spend the winter at wetlands in the Tibet autonomous region's Lhunzhub county. [Photo/Xinhua]
After years of research, Yandao commands an extensive knowledge of birds and can identify some 500 species just from their sounds.
"The unique alpine environment with thin oxygen and intense ultraviolet light is a habitat for several distinct species, some of which I have never seen before," Yandao said.
The bird population can be seen as a barometer for the region's environmental changes and will attract more bird-watchers to visit, he said.
Yandao's parents were initially not supportive of his choice of work.
"They hoped I would get a stable job in an office, but I just want to have freedom, like the birds I study," he said.
In recent years, Yandao's research has taken him to almost every prefecture and city in Yunnan tracking bird populations by means of regular surveys. In 2015, he joined an international team conducting a bird survey in Kenya.
Yandao is always in the field looking for new information and changes, said Yang Xiaojun, his colleague on the expedition team.
"The appeal of scientific expeditions is to explore new things, which has become my life-long pursuit," Yandao said.