Cirque du Soleil makes bold entry into China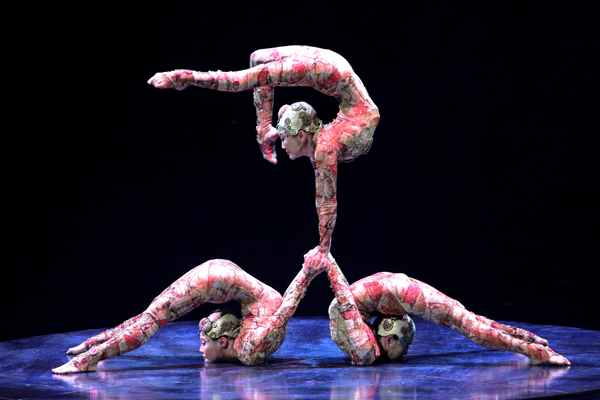 Three contortionists from Mongolia perform in Singapore on Wednesday for Cirque du Soleil's touring show in Asia, which will be introduced to China on Oct 1 in Shanghai. [Photo/China Daily]
A decade after Cirque du Soleil debuted in China, the Canadian entertainment company is returning with a much more ambitious plan: to bring a touring show to the country every year in addition to a resident show to be unveiled in Hangzhou, Zhejiang province, next year.
The first touring show, Kooza, will open in Shanghai on Oct 1, and will be held six days a week for two months before moving to Beijing and five other Chinese cities, which are still to be decided, according to Daniel Lamarre, CEO of the circus company.
"We will have a very intense presence in China, starting October and lasting forever," said Lamarre, adding that another two shows have been on the schedule to tour in China.
One of them will be Toruk, inspired from James Cameron's blockbuster Avatar, which earned $200 million at the Chinese box office in 2010.
"It was very important to bring a show to China that will be more distinctive than anything else here, where there are more than 10,000 circuses. We thought it (Kooza) is a very good entry to introduce our brand to China, because it is joyful," Lamarre said.
Meaning "box" in Sanskrit, Kooza, first created in 2007, tells the story of an innocent clown embarking on a magical journey inside the world of a circus. It is designated to pay homage to the traditional circus by combining a variety of acrobatic arts including aerial hoops, contortionists and balancing on chairs.
Price of the tickets will range from 475 to 745 yuan ($70 to $110) per person, which Lamarre said will be affordable for the country's burgeoning middle class, the target audience of the show.
Lamarre expects that 200,000 tickets will be sold in each city for the Kooza show.
"We are going to see in the live entertainment world here in the next two to five years what you have seen in the movie business over past five years. China has become the most important market in the movie industry. I think that's what will happen in the live entertainment industry," Lamarre said.
Circuses in China have a long and tangled history. Called maxi in Chinese, meaning stunts on a horse, they are believed to date back more than 2,000 years and largely involve animal performances. Over the past few decades, their popularity has waned with the rise of modern entertainment like TV and the internet.
But Lamarre is confident China's middle class will like the shows of Cirque du Soleil, which are famous for choreographing acrobatic arts connected through emotional and narrative storylines, as much as their Western counterparts, if not more.
"I have been doing lots of research. There are two schools of thoughts (in China about traditional arts). One is that people are looking for Western brands, which is going to be very appealing for Cirque du Soleil. The other is that they want foreign brands to respect their culture," he said.
The touring show, he added, will appeal to the first school of thought, while for the second, the resident show in Hangzhou will be a match, as its content will be a combination of Chinese and Western cultures.
At least 50 percent of the Hangzhou cast will be Chinese. It is also the first time the company will build a permanent theater and host a resident show outside North America. The decision to do so was made after Chinese conglomerate Fosun Group acquired a 25 percent share of the entertainment company in 2015.