China leads new energy vehicle development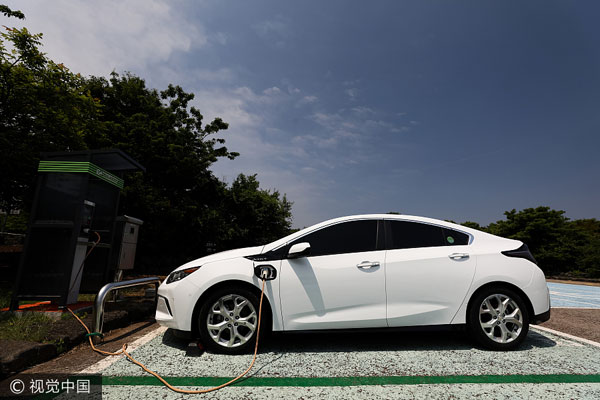 A charging plug sits connected to a General Motors Co (GM) Chevrolet 2017 Volt hybrid electric vehicle (EV) at a charging station in Jeju, South Korea, June 14, 2017. [Photo/VCG]
BEIJING - China now leads the world in new energy vehicle (NEV) development, according to a survey ranking China top in its global electric vehicle development index for the first time in the second quarter of 2017.
Results of the survey, the E-Mobility Index (2Q/2017), were jointly released by German consultancy Roland Berger and automobile study institute Forschungsgesellschaft Kraftfahrwesen Aachen on Tuesday.
Starting in 2009, China's new energy auto industry experienced a robust expansion and it has become the world's largest market since 2015, according to a statement from the Ministry of Industry and Information Technology (MIIT).
The German consultancy's report said that China will play a leading role in the future development of the global NEV industry thanks to its strong market growth.
Sales of electric cars in China grew rapidly, from less than 5,000 in 2011 to around 510,000 in 2016.
Production and sales were particularly robust in June of this year, with 59,000 units sold and 65,000 produced, up 33 percent and 43.4 percent respectively from a year earlier.
The China Association of Automobile Manufacturers estimated that domestic NEV sales could hit 800,000 units at the end of this year.
Industry insiders attributed the impressive progress of the Chinese market to government support and simpler licensing procedures.
"The output, sales and ownership of NEVs in China all accounted for more than half of global levels last year," said Chinese Vice-Premier Ma Kai at a meeting in early July, adding more research should be carried out in batteries, charging technology and the construction of charging facilities.
In April, the Guideline on China's Medium and Long-term Car Industry Development was jointly published by the MIIT, the National Development and Reform Commission and the Ministry of Science and Technology.
The document said that new energy cars were expected to be a key area in building China from a "big" auto power to a "strong" one.
Besides the government support, market demand and efforts by auto makers also prompted the domestic industry's trend, according to the survey.
Beijing Automotive Industry Corp (BAIC), a leading domestic auto manufacturer, recorded year-on-year sales growth of NEVs as high as 159 percent in 2016 and 99 percent in the first half of 2017.
Chinese auto companies including BYD, BAIC and Geely ranked among the top brands worldwide in terms of electric car sales last year, according to the China Passenger Car Association.
International cooperation on NEV production is also gearing up.
In June, German car giant Daimler signed a framework agreement in Berlin with China's BAIC to produce Mercedes-Benz-branded electric cars via their joint venture, Beijing Benz Automotive.
In accordance with the agreement, both enterprises are preparing to produce electric vehicles in China by 2020 and to provide the necessary infrastructure for battery localization using Chinese cells, as well as to expand research and development capacity.
Volkswagen plans to offer Chinese consumers about 400,000 NEVs by 2020 and over 1.5 million by 2025, which has been an important part of the company's ambition in the Chinese market, according to Jochem Heizmann, CEO of Volkswagen Group China.
As downward economic pressure becomes more intensive and the domestic market continues to expand, the deep-rooted challenges facing the industry need to be addressed.
"The cost of batteries is the issue of most concern for current development," said Ouyang Minggao from China EV100, a domestic industry group.
"The industrial foundation is not solid and we have not achieved breakthroughs in core technology of NEV batteries, so the competitiveness of the industry should be further sharpened," said Qu Guochun, deputy director-general of the machinery industry department at the MIIT.
To further promote the healthy and sustainable development of the industry, more efforts should be made in improving the innovation system, advancing industrial transformation and upgrading, and strengthening the application of NEVs, Qu said.