Traditional attire helps Miao women earn a living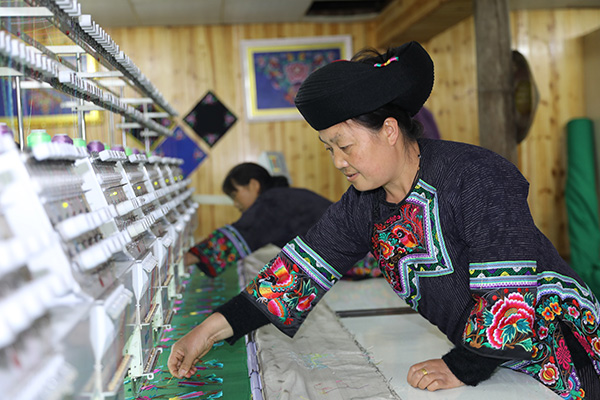 Ma Meiying works on an embroidery machine in Huayuan county, Hunan province. She leads her people to make traditional dresses of the Miao ethnic group. LIU XIANGRUI/CHINA DAILY
Ma Meiying learned the skills needed to make traditional Miao ethnic attire, which is decorated with elaborate and colorful embroidery, from her mother when she was a child.
As her skills improved over the years, she started making dresses at home during her spare time and was able to make money by selling them at the local weekly bazaar.
"In recent years, I have been able to earn 40,000 yuan ($5,900) per year, and work on it all year round because the demand has risen," she says.
Now, making the traditional dress and embroidery of the Miao people is a means of increasing the family income for Ma and other women in Shuitong village, a Miao enclave in the mountains of Huayuan county in Hunan province.
The village has a population of 1,700 and an average income of merely 3,000 yuan per year.
Due to the lack of transport links and limited natural resources, it is hard to develop industries in the area where Ma's village is located, and the men usually migrate to work in the cities to make a living. The women stay in the village to do the farm work and look after the family.
In 2014, Ma was elected as the village Party chief, and she started thinking about ways to improve the local villagers' lives. Ma then decided to put her skills into full play.
She started a cooperative to produce the Miao ethnic dress and embroidery in 2015, and it has grown from an initial eight members to more than 20.
"There are new members joining in all the time," she says. "It allows the women to earn some extra money beyond farming during the slack season."
To increase their efficiency, she bought a large modern embroidery machine in 2014 and spent half a year learning how to use it.
"It was hard for me in the beginning, and most of the time, I had to learn through practice," she explains, adding that she had to ask the machine's manufacturer to help resolve a problem by phone or with video guidance if the machine broke down.