Recounting war of resistance day by day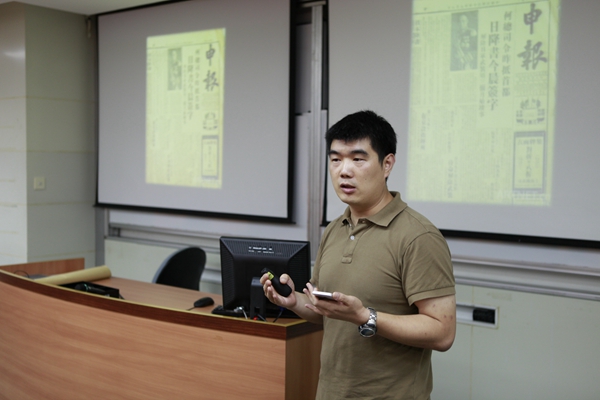 Jiang Tao shares his story about maintaining an account called Real-Time War of Resistance Against Japanese Aggression on Sina Weibo at Shanghai Jiaotong University in 2014.CHINA DAILY
Social media account delves deep into the lives of soldiers and ordinary people who fought against Japanese invasion
Jiang Tao, 40, thinks that the best way to commemorate China's War of Resistance Against Japanese Aggression (1937-45) is to recount the war as it happened day by day.
On July 7, 2012, the history lover and internet entrepreneur opened an account on Sina Weibo entitled Kangzhanzhibo, or Real-Time War of Resistance Against Japanese Aggression.
He uses the account to document what happened each day from July 7, 1937, when Japanese troops attacked Lugou Bridge, also known as the Marco Polo Bridge, on the outskirts of Beijing, triggering the start of Japan's full-scale invasion.
By day, Jiang runs a business in Shanghai, but around the clock, 1.41 million people follow his Weibo account. He posts several times a day on events recorded by Chinese newspapers from 1937 to 1945.
"Let us go back to the days and nights 80 years ago to share the humiliation, despair, glory and dreams of our predecessors," Jiang wrote on the first day.
Inspired by Twitter account RealTimeWWII, Jiang documents the eight-year war through news, photos and cartoons from online library archives. Two partners who are military enthusiasts post information on weapons used at the time.
The team posts news from behind and on the Chinese front line.
They posted Kuomintang leader Chiang Kai-shek's speech calling for perseverance in resistance, as well as a communist general's diary revealing the reasons for a military defeat.
"To better remember history, younger generations should have a comprehensive understanding of the war," Jiang said.
"We also focus on the ordinary people who stood up to fight against the Japanese invasion."
One report from Nov 18, 1937, records how an Australian court ruled in favor of 36 Chinese sailors after a local shipping company sued them because they refused to transport Japanese weapons.
Ten days earlier, 158 Chinese sailors working in the Netherlands quit their jobs for the same reason and returned to China to join the war.
Jiang posted the news reports about overseas sailors with pictures under the headline "Patriotism is Innocent".
"Compared with forces on the front line, overseas Chinese sailors had very little media coverage and public attention, but they made a huge contribution in supporting their motherland during the war at the risk of losing their jobs or even their freedom," Jiang said. "They should be remembered."
One netizen who has followed the Weibo account since 2012 said Jiang's efforts are an example of perseverance, which was also key to the final victory.
"I started following five years ago to honor people who fought in the war. I did not expect the account to gather so many supporters and followers," the netizen said.
Jiang's perseverance has paid off. It took him two years to get 300,000 followers, and five years to reach 1.41 million.
He organizes offline events, such as inviting veterans to speak at universities, and said the posts will continue until 2020, ending on Aug 15 - the date Japan's surrender was announced.
"I feel a responsibility to pass on the stories of those who made great contributions during the war," he said.
Xinhua

Editor's picks