China's tallest building shapes Shanghai skyline
Chief engineer pursues efficiency, community, fun in skyscrapers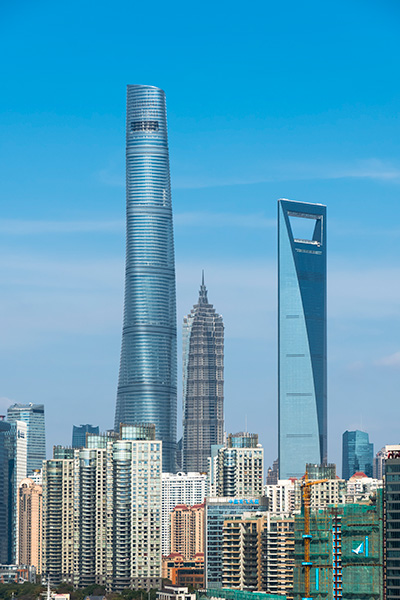 Shanghai Tower (left), Jinmao Tower (middle) and Shanghai World Financial Center in January. WANG GANG/ FOR CHINA DAILY
He built China's tallest skyscraper-as well as the world's second-highest one-but Ge Qing, chief engineer and architect of Shanghai Tower, isn't content with merely reshaping the city's skyline.
Ge and his team of more than 1,000 staff members are hoping the 632-meter structure, which officially opened in April, will improve the way people live and work in megacities such as Shanghai, whose population exceeds 24 million.
"There's no point in building a skyscraper just for height's sake, or for the crown of being the country's, continent's or world's highest," he said. "That can be easily overtaken."
In fact, it may have already been overtaken. In Shenzhen, a 739-meter tower proposed by real estate developer Kingkey Group is awaiting final approval. If built, it will be the world's second-tallest after the 828-meter Burj Khalifa in Dubai.
Ge has his own motives. "What we want to achieve and, ideally, demonstrate to developers and designers of skyscrapers around the world is how to make living and working in highly populated cities more efficient, energy-saving and fun by setting up skyscrapers," Ge said. "That's the significance of investing so much in having a skyscraper."
Standing in the heart of Lujiazui, Shanghai's financial hub, the Shanghai Tower was built at a cost of 14.8 billion yuan ($2.2 billion). It has 132 floors with a total floor space of 575,000 square meters and can accommodate up to 40,000 people.
It is the first time a skyscraper in China has exceeded 600 meters in height. It runs the world's fastest elevator, at 18 meters per second and has a LEED Platinum certification, the world's most widely applied green building rating.
"Shanghai Tower shows China's responsibility and commitment to the world to improve the environment and boost the health of its people," said Mahesh Ramanujam, chief operating officer of the US Green Building Council, which issues the LEED ratings.