Turning rags into riches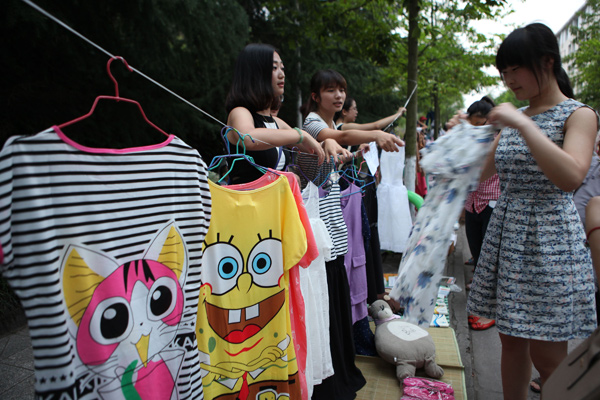 Students buy used clothes and other staff at a flee market in a university in Neijiang, Sichuan province. [Photo by Lan Zitao/China Daily] 
A promising market
Secondhand clothing stores are commonplace in developed countries, but few exist in China.
"Some of my Japanese friends have become used to buying secondhand clothes, even though some are more expensive than new ones," said Zhao Hua, 29, from Shijiazhuang, Hebei province, who has lived in Tokyo for five years.
Zhao recently bought a secondhand dress. It was cheaper than the items her friends bought, but she is satisfied: "It's stylish and clean."
Chen, the Beijing resident who chases every new fashion, refuses to buy used clothing. She used to sell unwanted garments online, but found the process frustrating: "Negotiating with online buyers is quite time-and-energy-consuming, and I made very little money."
She has doubts about the cleanliness of secondhand clothes: "I don't know where they have been, or if they are clean. Do they harbor bacteria? That thought would make me feel horrible if I wore secondhand clothes."
Despite the doubts, the market for secondhand clothing is promising, given the amount of unwanted garments in storage, and the soaring production and sales of new items.
Last year, sales of textile, clothes, hats and shoes exceeded 1.4 trillion yuan ($205 billion) in China, according to the National Bureau of Statistics, and the country has long been the world's largest textile producer and exporter.
Online platforms that focus on the sale of used clothes are becoming increasingly popular. For example, on Monday, Zhuanzhuan, an online platform that specializes in old clothing, carried information of about 380,000 items nationwide.
"Not all the used clothing sells, but big brand items sell for far more than regular brands," said Liu Chang, Zhuanzhuan's brand operations manager.
Noting that China has banned the importation and sale of used clothing, Zhao, from the fashion technology institute, said: "The used clothing business requires supervision because there are no laws or regulations to regulate collectors and vendors, or guarantee quality and the legality of supply."
Collections rising
While the institute's 2015 survey showed that 58.8 percent of respondents wanted to donate used clothing to people in need, there are few charities to receive their donations, and many branches of the Red Cross Society refuse to receive used clothing because of health concerns and storage costs.