Residents yield to needs of railway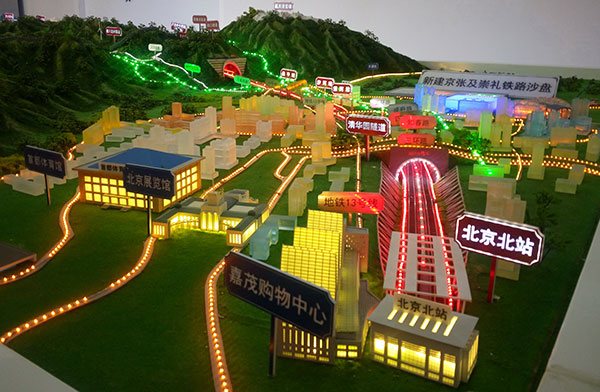 A model of the Beijing-Zhangjiakou high-speed railway's Beijing section.Sun Xiaochen / China Daily
Construction of the Beijing-Zhangjiakou high-speed railway is making smooth progress, with land requisitions and demolition work almost finished along the Beijing section, the city's urban development authority said on Wednesday.
The 174-kilometer railway between Beijing and Zhangjia-kou in Hebei province - scheduled to begin operating at the end of 2019 - involves a construction corridor extending almost 64 km from Beijing's downtown to its northwest Yanqing district, with the rest of the line winding through the mountains of Hebei.
With support from local governments, affected residents and construction contractors, 98 percent of the land needed along the line in Beijing has been acquired, and demolitions of buildings within the area are now complete, according to the Beijing Municipal Commission of Housing and Urban Development.
"Contractors now have no barrier to moving forward," said Zhou Hui, deputy director of the commission's railway engineering department.
The project, which kicked off in early 2016, is a key piece of transport infrastructure for the 2022 Beijing Winter Olympics, which will be staged at three venue clusters - in Beijing's downtown, in Yanqing and in Zhangjiakou.
Once the 53.5 billion yuan ($7.8 billion) project is completed, it will significantly boost the local economy and people's livelihoods in the mountainous northern region by smoothing out traffic, local officials said.
"Residents are very supportive of the project and cooperate actively with us to move from their homes and deal with the reallocation procedure," said Cheng Zhimin, deputy director of the Yanqing Transportation Bureau.
Using the new railway, people will need only 20 minutes to travel from Beijing downtown to Yanqing, the proposed venue area for the Alpine skiing, bobsled and luge events of the 2022 Winter Games.
All 203 households from 20 communities in the construction strip in Yanqing had moved to temporary housing by April, emptying the area ahead of schedule for construction, according to the bureau.
"The primary concern was where we would live after the demolition," said He Qiuzhi, a woman from Dafutuo village, which is on the line in Yanqing.
Her six-member family has been allocated six apartments, along with 1.1 million yuan in monetary compensation.