Turning rags into riches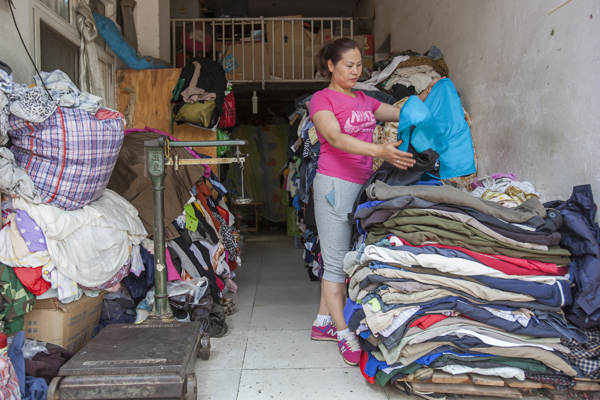 A woman buys secondhand clothes for distribution to homeless people in Kunming, Yunnan province. XIE RUI/CHINA DAILY
Experts are calling for greater recycling of unwanted clothing to prevent pollution and reduce the consumption of resources
Though Chen Yang enjoys sorting through cupboards to throw away outdated clothes to make room for recently purchased items, she always feels guilty.
"The clothes are in good condition, but I have no easy way to sell them or donate to charity, so I leave them on a bench in my community," said the 29-year-old publishing house employee in Beijing.
In May, Chen left two bags of clothes on the bench. The next morning the clothes had disappeared, and the trash cans near the bench were empty.
"I hope people in need took the clothes, instead throwing them in the trash," she said.
Her fears were well-founded, because there's a strong possibility that discarded clothing will end up as household garbage, rather than being reused or recycled.
Higher living standards and better wages mean many people have become accustomed to chasing fashion and can buy as many clothes as they want. The problem is that there are few ways of disposing of unwanted items.
A survey conducted by the Beijing Institute of Fashion Technology and the China National Garment Association in 2015 showed that 40 percent of the 1,573 respondents owned 10 to 30 unwanted items of clothing, and 63 percent stored them in closets.
Research unveiled at an event headed by the Ministry of Civil Affairs in 2014 showed that every year less than 14 percent of waste textiles-generated during clothing production-and unwanted clothing were recycled. Moreover, the volume of waste textiles and unused garments was estimated to have reached 20 million metric tons a year.
The recycling of waste textiles and used clothing could provide 12 million tons of synthetic fibers and 6 million tons of natural fibers, meaning fewer textiles would need to be produced. The resultant decline in production would be equivalent to a reduction in crude oil consumption of 24 million tons a year, according to the report.
Meanwhile, polymer-based synthetic fibers, which originate from refined materials, such as petrochemicals, could also be a source of fibers.
"We can convert the plastic used in small water bottles into fibers for T-shirts because they use the same chemical ingredients," said Du Junqi, a professor of synthetic fiber technology at the Beijing University of Chemical Technology.
That could be significant, because random disposal of unwanted clothing and waste textiles can pollute the environment.
"It takes 100 years for cotton or woolen clothes to decompose if they are buried in landfill sites, but it's even longer for textiles made from synthetic fibers," said Zhao Guoliang, a professor of natural fiber recycling technology at the Beijing Institute of Fashion Technology.
"The best way to utilize used clothing is to sell it to people in need."