Village protection plan preserves ancient culture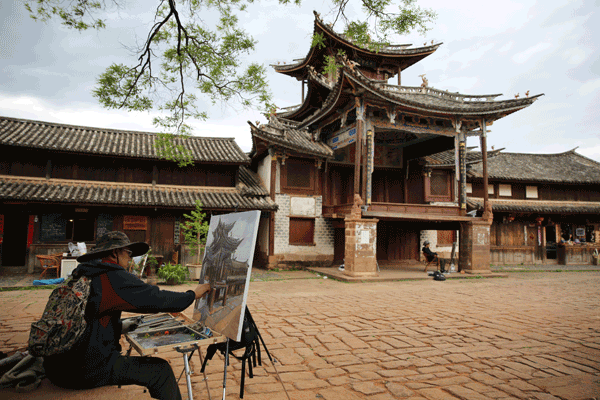 A local artist produces a painting of Shaxi, a township in Jianchuan county, Yunnan province. HOU LIQIANG/CHINA DAILY
Awareness is growing of the need to save age-old settlements that embody traditional lifestyles
Once, all the houses in Zhoucheng village were traditional properties, with three rooms and a screen wall forming a courtyard, an age-old architectural characteristic of residences of the Bai ethnic group.
Now, just four houses in the village, home to 2,500 households in Dali city, Yunnan province, still maintain the traditional values, while the others have either lost their traditional structures and decor as a result of renovation work, or have been demolished to build new houses. The process took just 10 years.
To make matters worse, some newly built houses are just concrete boxes that lack any local cultural characteristics, according to Duan Shusheng, deputy director of the village committee.
Zhoucheng is just one of hundreds or even thousands of traditional Chinese villages that have seen traditional residences fading away, while many face a far worse situation-they are disappearing, as younger, able-bodied residents move away to seek work in big cities, leaving just the elderly behind.
China, the world's second-largest economy, faces challenges in the protection of traditional villages, which are believed to be key repositories of 5,000 years of culture and tradition. In 2012, the central government launched a campaign to protect them, and so far, 4,153 of the most representative villages full of rich cultural relics have been listed and protected as National Traditional Villages.
Although, Zhoucheng was listed as a National Traditional Village in 2012, the destruction of its old residences happened around 2007.
As living standards rose, a growing number of villagers wanted their homes to be upgraded. There were no bathrooms in the old houses, but some villagers wanted them, along with larger kitchens, Duan said.
However, it's more cost-effective to build new houses than renovate the old ones; it costs 30,000 yuan ($4,400) to adapt old houses to include a bathroom, but only 1,000 yuan a square meter to build a new house, he added.
Some families demolished their old houses to build new ones, mainly because there wasn't enough space in the old houses to accommodate the growing number of family members. Many said they would keep their old houses as long as they could obtain land on which to construct new ones. However, the village couldn't offer them the land, according to Duan.
Though dismayed by the situation, Duan is happy to see a growing awareness among residents of the need to protect traditional architecture.
"More villagers now choose to build new houses in the traditional style, and some only use traditional materials," he said.
Zhoucheng is one of 615 traditional villages in Yunnan on the national list.