Fly high: Chinese solar drone 'Rainbow' reaches near space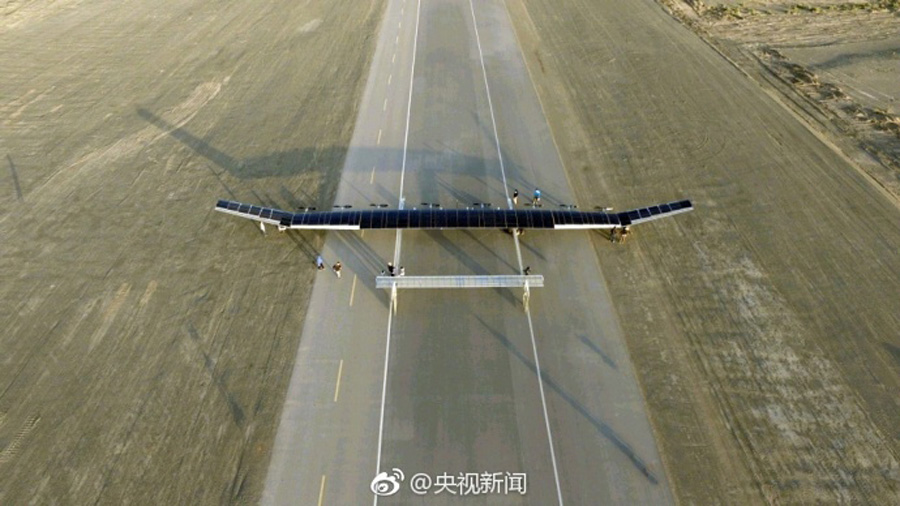 Photo shows a solar drone on its test flight. China has successfully tested near-space flight of its largest solar drone. With a wingspan of 45 meters, the solar-powered drone is capable of flying at an altitude of 20 to 30 kilometers, and cruising at a speed of 150 to 200 km per hour for a long time. The unmanned aerial vehicle will be used mostly for airborne early warning, aerial reconnaissance, disaster monitoring, meteorological observation and communications relay. [Photo/CCTV]
GREAT EXPECTATIONS
According to the project plan, the CH UAV will perform as a "quasi-satellite" in the future, being able to supplant some functions of telecommunication satellites in providing data relay services.
It is also expected to be used as "an airborne mobile Wi-Fi hub" to provide convenient mobile telecommunication and Internet access for remote areas and islands, saving the huge construction and maintenance costs of traditional communication means.
According to Shi, the UAV will also be capable of forestry and agricultural surveying as well as early warning and real-time monitoring of disasters.
"In earthquake, flood or forest fire situations where telecommunications are cut off, such vehicles may provide services to maintain communication with the affected areas," Shi said.