Providing food for thought in China's rural schools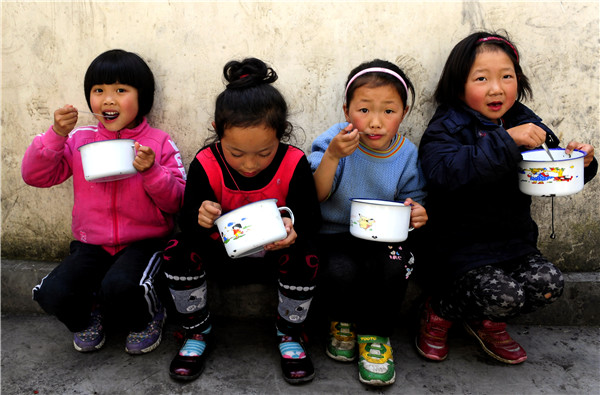 Children enjoy free lunches in Hefeng county, Hubei province. [Photo/Xinhua]
A nonprofit organization started by an investigative journalist is raising money and funding philanthropic projects for the poorest children in society, as Liu Wei reports for Xinhua China Features.
Qiang Zi (not his real name) has to walk two hours to school in the mountain village of Xinhuang, a county in Hunan province. But the 7-year-old student enjoys school-and the free lunch he receives there.
Once, students like Qiang endured hunger and health problems because their families were too poor to afford to provide lunch. This meant no food for 10 hours, and most had to drink water to appease their grumbling stomachs.
Hunger caused malnutrition, which affected the children's physical and mental development. According to a report on nutrition and chronic diseases published by the National Health and Family Planning Commission in 2015, rural children age 6 and younger were two to three times more likely to be underweight and experience developmental delays than their urban peers.
The report troubled investigative journalist Deng Fei, who was researching rural problems across the country: "It shocked me. I couldn't believe that thousands of children were still struggling on one meal a day despite China's rapid economic growth. People say there's no such a thing as a free lunch, but why couldn't we make it happen?"
In April 2011, Deng started the Free Lunch for Children Foundation, with the help of 500 like­minded journalists, lawyers, professionals, low level officials and volunteers.
It is the first public initiative to offer free lunches to students in remote, poverty-stricken areas. In the past six years, it has raised 270 million yuan ($39 million) and fed 190,000 students a day at 738 schools in 26 provinces and regions.
The initiative inspired a government plan. Since 2011, the central government has earmarked 16 billion yuan to provide proper meals for impoverished students in rural areas, starting in their first year at school.
Students of different ages have become taller on average following the implementation of the Nutrition Improvement Plan. Those who have eaten school lunches for three or four years, especially students ages 11 to 15, are 5cm taller on average, according to the Report on Nutrition Improvement in Poor Rural Areas, published by the China Development Research Foundation on June 1.
For example, from 2012 to last year, 11-year-old boys and girls grew taller (boys averaged 137.8 to 143.5 centimeters, while girls were 138.7 cm to 144.3 cm). Boys and girls in the same age groups have grown by 5.7 cm and 5.6 cm respectively.
"We didn't believe the results of the data at first, but after repeated confirmations, we were convinced." said Lu Mai, the foundation's vice-president.
However, the 3 yuan it provides for a meal is not enough. Many schools cannot build a canteen or hire a cook, so they just provide bread and milk.