Xi suggests aligning B&R initiative with European investment plan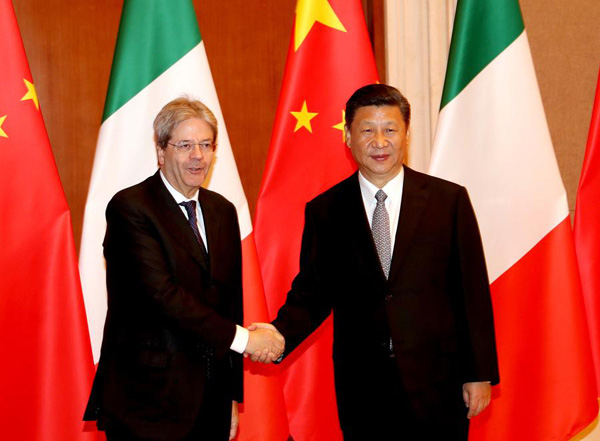 President Xi Jinping meets with Italian Prime Minister Paolo Gentiloni in Beijing on May 16, 2017. [Photo/Xinhua]
BEIJING -- Chinese President Xi Jinping on Tuesday suggested aligning the Belt and Road Initiative with the European Investment Plan in order to inject new momentum into China-EU ties.
Xi made the remarks when meeting with Italian Prime Minister Paolo Gentiloni after the two-day Belt and Road Forum for International Cooperation ended on Monday in Beijing.
Noting that China and Italy both boast ancient civilizations, Xi said the two countries have been connected by the historic Silk Road.
He commended the frequent visits by leaders from both sides and close exchanges between officials at all levels, saying China is willing to work with Italy to further advance bilateral ties.
Both China and Italy are key members of the international community, Xi said. He urged the two countries to maintain the current momentum in high-level exchanges, as well as close contact between governments, legislative bodies, political parties and between regional authorities.
The Chinese president highlighted two-way investment, construction of industrial parks, e-commerce and innovation as areas for further cooperation.
China welcomes Italy to participate in the construction of the Belt and Road, and supports cooperation between the two countries in port management, shipping as well as ship building, he said.
Beijing is willing to maintain communication with Rome on major international issues, and hopes Italy can play a positive role within the European Union in order to safeguard development of China-EU ties, he said.
For his part, Gentiloni said the just-concluded Belt and Road forum had sent a positive signal to the world economy and international trade.
Italy is willing to participate in cooperation under the Belt and Road framework, particularly in the field of infrastructure, and to strengthen collaboration with China in areas linked to economy, technology, agriculture, public health, education, culture, tourism as well as small- and medium-sized enterprises, he said.
Italy sticks to the one-China policy and will play its role in promoting EU-China ties, Gentiloni said.