Beauty of the ages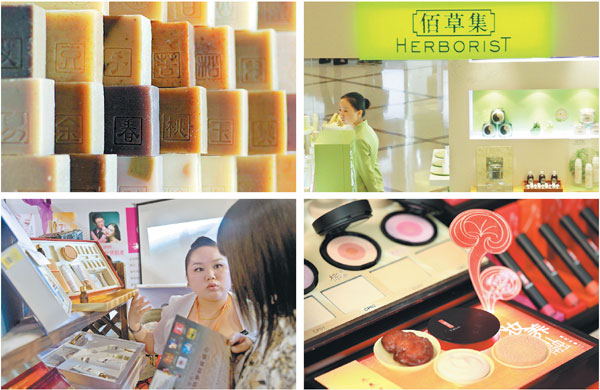 Chinese skincare brands are seeking to rejuvenate themselves by appealing to younger shoppers, with a heavy focus on putting traditional Chinese medicine in their manufacture. [Photos by Nan Shan and Wang Jingsheng/For China Daily]

Younger shoppers are being won over as cosmetics makers underline the time-tested benefits of traditional Chinese medicine
A few days ago a cartoon was disseminated among users of the Chinese instant messaging app WeChat that told a spy story set in China in the early 20th century, and within 24 hours it had attracted more than 5 million views.
The posting turned out to be a publicity stunt by Pechoin, one of the oldest local skincare brands in China, the aim being to stir up interest in local skincare brands long overshadowed by their rivals from overseas.
Like many local cosmetics companies, Pechoin, founded about 85 years ago, underwent a steady decline in the early 2000s when international brands started to make inroads into the Chinese market.
But 10 years or so ago the company began to experience a burst of rejuvenation appropriate to the kinds of products it sells. That was thanks to a management decision to diversify the product range, extend the company's retail network in smaller cities and infuse its products in popular culture by appointing Karen Mok, a well-known singer, as its spokeswomen.
It became one the earliest local brands to open a store on Tmall, China's major online marketplace, and last November it became the best-selling local skin care brands in the Singles Day shopping festival, following brands such as Mary Kay, L'Oreal and Olay.
Like Pechoin, other Chinese brands are seeking to rejuvenate themselves by appealing to younger shoppers. What all these products have in common, too, is that they lean heavily on traditional Chinese medicine in their manufacture. Often, rather than this being a strong selling point, it seems to have deterred many prospective buyers, particularly the young, but this is beginning to change.
Typical of such shoppers is Zhang Xuan, who says she has used many different skin care products over the years. Nothing seemed to soothe her dry skin, she says, until she recently stumbled on a cosmetics brand that relies on TCM, and she is convinced that her search for relief is finally over.
"I think it is healthier and suits my skin better," says the Shanghai school teacher, who is in her 20s. "I'd like to try other TCM-based skin care, too."
Cosmetics based on TCM are still a small minority at the cosmetic counters of department stores, but they have gained momentum in the past few years as both sellers and buyers discover how potent they can be. Those who have given them any attention have tended to be older shoppers, but now younger people like Zhang are voicing their appreciation about their efficacy and value for money.
The award in 2015 of the Nobel Prize in Physiology or Medicine to the Chinese pharmaceutic chemist Tu Youyou, together with William Campbell and Satoshi Omura, gave TCM a higher profile and may have helped increase sales of TCM products, including cosmetics.
Chinese indigenous brands like the one Zhang is now using, Herborist, have begun to attract more attention and sell better as they not only using TCM as a strong selling point but also remain relatively cheap.
China's cosmetics market was estimated to be worth 205 billion yuan ($29.8 billion) in 2015 and is forecast to be worth 361 billion yuan in 2020, making China one of the fastest growing markets for cosmetics, the market research firm Ibaogao says.
A recent report by Alibaba and CBN Data on cosmetics sales suggested that while the Western brands continue to dominate the top end of the market, Japanese and South Korean brands also continue to thrive, feeding on the popularity of TV dramas from those two countries. At the same time, Chinese indigenous brands have been emerging with e-commerce, many specializing in skin care, and using TCM both in their manufacture and as a selling point.
Apart from the core consumers aged from 23 to 28, those under 22 are increasing rapidly, now accounting for about one fourth of the consumers on Tmall, the online marketplace. Men are also paying more attention to skin care than before, the Alibaba and CBN Data report said.
Yue Sai, the cosmetic brand that belongs to the French company L'Oreal, has used TCM in its products since 1992. Most of its customers are in their 30s and 40s, but the ranks of users in their 20s are swelling, says Stephane Wilmet, chief consumer officer of L'Oreal China. Indeed, more than half its online store customers are in their 20s, says Wilmet, previously Yue Sai's brand general manger.
"For a lot of people, Chinese beauty reminds them of tradition rather than fashion. Young people may at first feel TCM is not for them, but we have transformed the products in terms of marketing, packaging and product range."
The brand combines TCM ingredients such as lingzhi mushroom and ginseng with modern technology to develop products tailored for the Asian skin.
"It's not just about cultural heritage," Wilmet says. "The mild nature of the TCM ingredients also caters better to Chinese skin."
As many as 80 percent of its customers come from second-tier and third-tier cities, and they are becoming more independently minded, Wilmet says, knowing which products best suit them rather than simply following the crowd.
Brands younger than Yue Sai are now following suit, looking to capitalize on the power of TCM.
Yuan Soap, a Taiwan brand that specializes in handmade soap, uses Chinese herbs, olive oil and spring water to make skin care products. It takes about 60 days to produce a new batch, it says, adhering strictly to an environmentally friendly approach.
The brand has attracted a large following of young people in their 20s with its organic concept, as well as the middle class who hanker after the good things in life.
Wu Muyu, marketing manager for Yuan Soap, says those who buy it are highly positive about TCM, especially the use of wormwood, a common herb that people use in their daily lives. Yuan Soap now has 19 stores and an online shop on Tmall.
These new brands are also very good at marketing themselves in new, flexible ways.
By the end of last year, more than 3,000 brands had opened stores on Tmall. The skincare industry is enjoying great success online, the Alibaba and CBN report said.
Sixiang, a skin care brand using Chinese soapberry, was launched last year, and with promotions on WeChat and Taobao it has built a solid base of buyers, especially among those in their 40s who firmly believe in the benefits of TCM.
It is not just the beauty brands that are warming up to the idea of TCM. The huge potential in the beauty and personal care market in China has also attracted many TCM companies.
Yunnan Baiyao, a well-known Chinese medical company, has produced hemostasis toothpaste based on what it says is a secret recipe. Tongrentang, another acclaimed TCM brand, has launched its own cosmetic line, and Mayinglong has developed an eye cream based on its own herbal recipe.
However, it remains to be seen whether TCM beauty products can be as popular as Japanese and South Korean brands.
Zhao Wei, founder of Conature, an organic hair product brand, says that one of the biggest challenges for emerging TCM-based brands is that Chinese consumers lack the trust and confidence for indigenous brands in the same way that Japanese or South Korean consumers have confidence in their countries' products.
A former fashion editor at Harper's Bazaar China, Zhao says she has always wanted to have her own brand. She founded the brand as her mother could not find a hair salon offering authentic organic hair products, she says.
Zhao imports ingredients from southern France and Italy and works with scientists from the Chinese Academy of Sciences to develop her company's own products. The brand promotes the products through its hair salons and now has two branches in Beijing and one in Jinan, Shandong province.
"The South Korean cosmetics brands are big because their people are very supportive of their own brands," Zhao says. "In China it still takes time for people to build awareness of local brands."
However, she says she expects the situation to improve in about five years.