Government tackles growing waste problem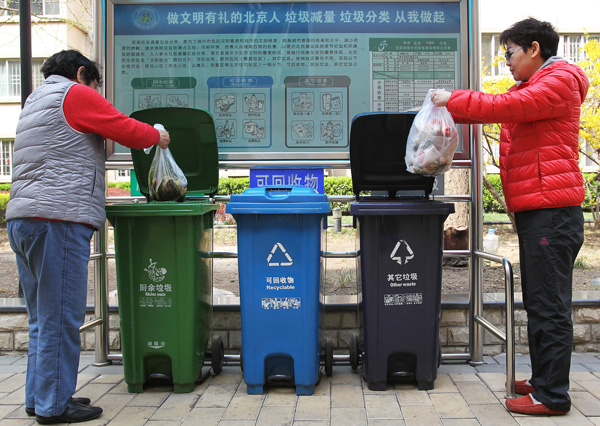 People dispose of trash in Beijing's Fengrongyuan residential community. [Photo by Zhang Wei/China Daily]
A pilot plan has been unveiled to ensure that major cities will sort and separate all household trash by the end of the decade. Zheng Jinran reports.
New measures have been announced that will require government offices, restaurants and businesses in 46 major cities to sort and separate all household trash, including hazardous waste, kitchen leftovers and recyclable materials, by 2020.
The aim is to reduce the environmental risks posed by growing piles of waste in landfills and public places.
By the end of the year, the cities will be required to issue plans listing the types of waste they will deal with, and formulate plans for transportation and processing, according to Feng Liang, a senior official for resource conservation and environmental protection at the National Development and Reform Commission.
By the end of the decade, the recycling rate for household waste will have risen to at least 35 percent of the national total, he said. The commission, China's top economic planner, and the Ministry of Housing and Urban-Rural Development have issued the action plan to achieve the target.
The move has been warmly welcomed by environmental experts, businesses and other commentators because it is the first time mandatory regulations on the disposal of household trash have been levied at the national level. That illustrates the government's commitment to improving the situation, they said.
Implementation concerns
However, some observers have expressed doubts about the plan's implementation. Measures to encourage the sorting and separation of waste were first introduced 16 years ago, but progress has been slow.
They pointed to the fact that only government buildings, schools and businesses, such as restaurants and shopping malls, will be legally obliged to follow the plan, while citizens and households will just be encouraged to follow suit.
The plan lists various types of household trash: hazardous waste, such as used batteries, expired medicines and paints; recyclables, including bottles, cans, clothing and paper; and kitchen waste, such as vegetable peelings and other discarded organic material.
It will cover China's four municipalities - Beijing, Tianjin, Shanghai and Chongqing - several tier-one cities, every provincial and regional capital, and smaller cities designated as models for waste treatment, such as Handan, Hebei province.
"It's a systematic program to sort all trash. It will take time, but it's a good idea to start with businesses and government buildings. That familiarity will make the plan more effective and easier to promote in residential communities," said Xu Haiyun, chief engineer at the China Urban Construction Design and Research Institute.
According to Liu Jianguo, a professor at Tsinghua University's School of the Environment, businesses and departments subject to the plan will assign specific duties to people so their performances will be easy to assess. "They will gradually encourage residents to participate in the program," he said.