Italian police officers walk beats on Great Wall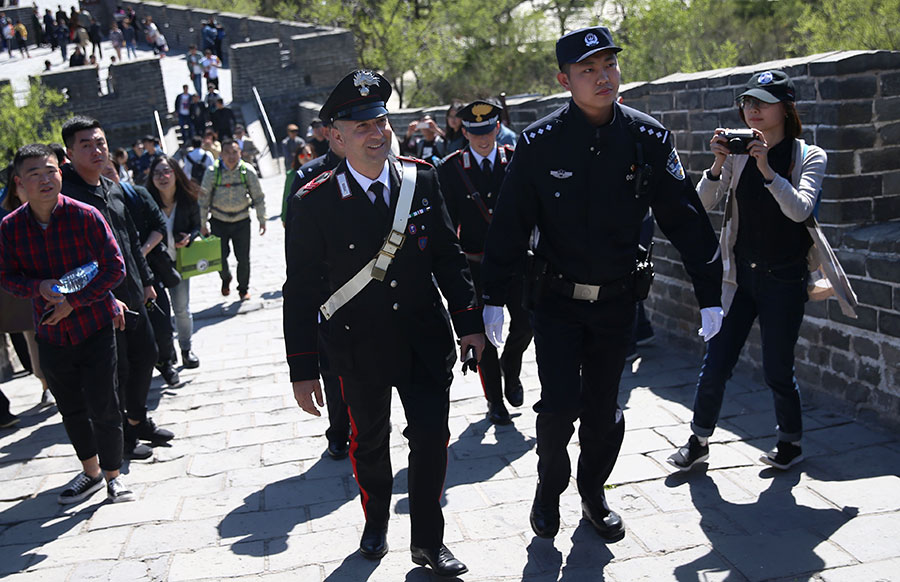 Four police officers from Italy conduct joint patrols with Chinese police officers on the Great Wall in Beijing on Monday. The Italian officers will help to patrol the streets in Beijing and Shanghai from April 24 to May 7. ZOU HONG/CHINA DAILY
Eight Chinese police officers will go on patrol in Italy in early June to help their Italian counterparts protect Chinese tourists, a senior police official said on Monday.
The officers, selected nationwide and proficient in Italian, will patrol scenic spots in Rome, Milan, Florence and Naples to help deter crimes against Chinese tourists, said Liao Jinrong, director of the Ministry of Public Security's International Cooperation Bureau.
The patrol duties will last for two weeks or possibly longer, depending on the needs, Liao said. The Chinese officers may not be armed, and they have no law enforcement authority on these patrols, he said.
China may also send police officers to Austria and Spain later this year to help ensure Chinese tourists' safety and to aid in communication, Liao said.
"Joint police patrols are an effective means of expanding mutual trust and giving tourists a stronger sense of security," he said. "They can also help us better understand each other's legal systems and police procedures."
China and Italy signed a memorandum of understanding on joint police patrols in September 2015, the first such agreement between China and a European country. A first group of four Chinese police officers patrolled in Rome and Milan from May 2 to 13 last year.
Four Italian police officers began patrolling in Beijing and Shanghai on Monday and will continue to May 7.
They may not carry weapons, but can offer advice and help handle cases targeting Italian tourists in tourist spots, according to China's Ministry of Public Security.