Born in China movie best exemplifies Sino-US cultural exchanges: Official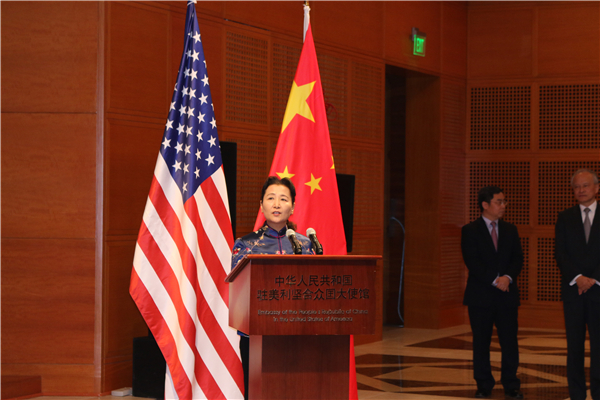 Cui Yuying, deputy head of the State Council Information Office, delivers a speech at the showing of the movie Born in China in Chinese embassy in Washington DC, April 22, 2017. [Photo by Zhao Huanxin/chinadaily.com.cn]
Sino-US nature documentary Born in China best exemplifies the deepening cooperation in film-making and cultural exchanges between the two countries, an official said on Saturday.
Cui Yuying, deputy head of the State Council Information Office, said this while delivering a speech at the showing of the movie in Chinese embassy in Washington DC.
This is an important cultural exchange event between the two countries after Xi-Trump meeting at the Mar-a-Lago resort, she said.
Born in China was released in the US on April 21, one day before Earth Day. It features animals like pandas and golden monkeys to showcase China's unique wildlife and natural beauty.
Watching Born in China directed by Lu Chuan and his international team will enhance people's awareness of the importance and urgency of environmental protection, China's Ambassador to the United States Cui Tiankai said at the event.
The documentary has been translated into more than 10 languages and later will be released in over 100 countries and regions.
The documentary is coproduced by Disneynature and Shanghai Media Group. Its Chinese version was released last August.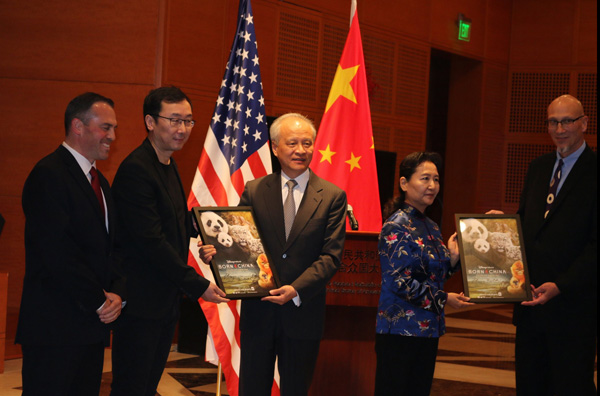 Vice-President of the Walt Disney Company Paul Baribault; Chinese director Lu Chuan; China's Ambassador to the United States Cui Tiankai; Deputy Head of the State Council Information Office Cui Yuying; and American film producer Roy Conli (from left to right) hold posters of the movie Born in China before the showing at Chinese embassy in Washington DC, April 22, 2017. [Photo by Zhao Huanxin/chinadaily.com.cn]