China-Africa friendship in full bloom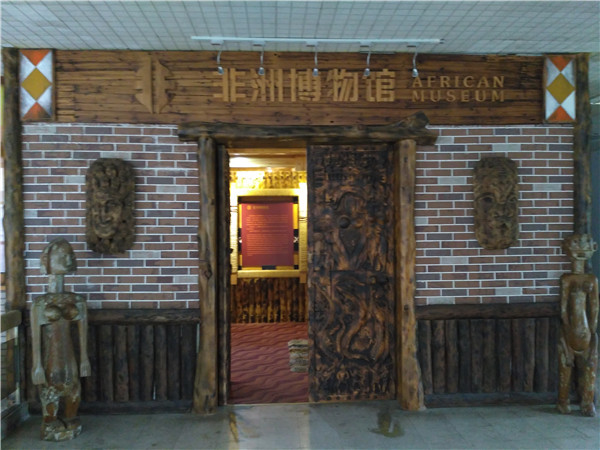 The African museum of the Institute of African Studies. [Photo provided to chinadaily.com.cn]
Through cultural exchanges, China and Africa friendship is now in full bloom and gathering further pace. A journalist named Lovemore Chikova from the Herald magazine in Zimbabwe started his article with an amazing narrative of how the pupils at Jinhua Quibin Primary School in Zhejiang province, China, leap into the air in a typical African dance routine. He said that the sound of the African instruments ranging from the mbira from Zimbabwe to the West African specially designed congas and other African instrument were so loud and clear, making a visitor from Africa momentarily forget they are in far-away China; that is the power of cultural diversity. The wide-ranging and colorful cultural activities from the pupils made important contributions to promoting the all-around, balance and sustainable development of the new type of China-Africa strategic partnership as well as intercultural dialogue on an equal footing, and safeguard world cultural diversity. The primary school is the first school in China to completely embrace the teaching of African culture, making the school a symbol of the symbiotic relationship between Africa and China since it embarked on such a special programme in 2015.
I was also amazed the first time I came to the Institute of African Studies to see an African museum in an institute that is located in China; this made me believe that China-Africa cultural exchange is really gaining momentum and moving to the next level. As far as I know, in recent decades the Chinese have expanded their activities from trade and investment to cultural exchanges in more and more African nations, making the Chinese gradually learn more about Africa and its people. But the exchange is not equal. In contrast, opportunities for Chinese people to learn about Africa are relatively rare. People in China do not know much about African culture and art. Although China-Africa relations began centuries ago and intensified during the liberation struggle by African nations, and continue through the present day, there is still little awareness from the Chinese in terms of Africa culture. Nowadays, the friendship has been strengthening economic and political relations. But it is an African museum at the Institute of African Studies and institution like Jinhua Quibin primary school that ensures such friendship is expanded to other areas. The primary school and African museum have adopted a special type of education that focuses on African culture. The museum is the first of its kind to be established in a higher education institute and it specializes in foreign art. The collection of African artifacts is the largest collection of foreign art in terms of a higher education institute since the founding of the People's Republic of China in 1949, thereby making Zhejiang Normal University, the university with the largest collection of African artefacts.
Looking at the museum from afar, you will see that the building itself is a piece of art spreading out right in front of your eyes. When entering the structure, you will find different artefacts displayed around, offering a different perspective. This is how traditional African landscape paintings should be experienced, through free shifts of perspective; China and Africa need an architecture for aesthetic appreciation and spiritual fulfillment.