Traditional medicine heads into the mainstream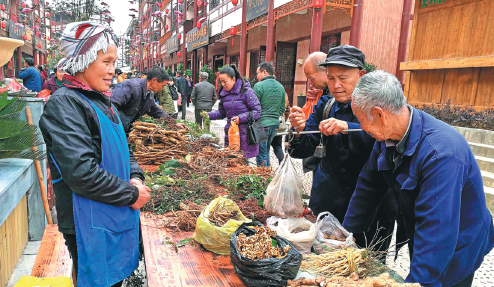 A vendor sells medicinal herbs at a market in Kaili city in Guizhou province. [Photo/Xinhua]
Wang Zengshi's house is full of silk banners that have been presented to him by grateful patients; some hang on the walls of his home, while others have been spread casually on the floor.
The practitioner of Miao traditional herbal medicine treats more than 30 patients a day at his clinic, and he often travels to other parts of the country to provide treatment.
"Some people only come to me when the hospital doctors say they are doomed, but I never refuse to see them," said the member of the Miao ethnic group, from Wengtong, a village in Leishan county, Guizhou province.
Wang's four-story complex is equipped with hospital beds, a pharmacy and a consulting room filled with patients' files.
Even though the 59-year-old dropped out of primary school after the third grade, his area of expertise is the treatment of bone fractures and snakebites. However, he claims he can also provide relief from, or even cure, a range of ailments including cancer and infertility.
"Patients come all the way to see me, so I have an obligation to look after them," he said, referring to the difficulty of reaching the village, deep in Leigong Mountain and only accessible to the outside world by a narrow, winding cement road.
Last year, Wang's clinic generated income of 2 million yuan ($290,000), thanks to the rising popularity of traditional Miao medicine and treatment methods. The phenomenon is noticeable across the province.
In 2015, the total sales value of Miao herbal medicine in Guizhou was 20 billion yuan, surpassing the combined figures for traditional Tibetan, Mongolian and Uygur treatments, according to figures from the Guizhou Department of Science and Technology.
In the same year, a guideline issued by the provincial government pledged to accelerate the development of industries related to Miao herbal medicine and encourage the construction of new treatment centers in three nearby prefectures and in Guiyang, the provincial capital.
To enable a larger number of Miao herbal medicines to gain acceptance as legal treatments, the provincial government is working to have more of them included in the Chinese Pharmacopoeia, a list of approved medicines, the guideline said.
Lin Ruichao, dean of the School of Chinese Materia Medica at Beijing University of Chinese Medicine, said 155 Miao medicines have already been approved for use by the China Food and Drug Administration.
The inclusion of more Miao medicines in the pharmacopoeia would further increase the sector's influence, but local businesses still need to improve their products, he told a forum in July.