Mackerel Festival is underway in Qingdao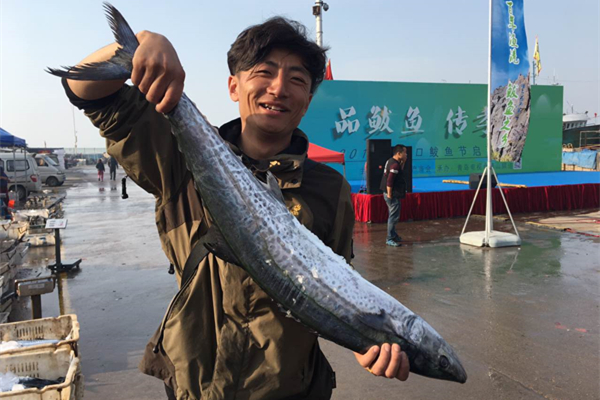 A fisherman shows a Spanish mackerel during the Mackerel Festival in Qingdao, Shandong province, April 17, 2017. [Photo by Wang Yonghong/chinadaily.com.cn]
Qingdao, a coastal city in East China's Shandong province, is rich in seafood, such as Spanish mackerel. Every April, crowds of mackerel swim to the fishing grounds in Qingdao's Laoshan district, and local fishermen enjoy the catch.
However, mackerel have a special and deeper significance for locals, besides being April's must-eat table delicacy. Legend has it that there was an orphan boy named Little Wu, who was later adopted by a kindhearted old couple. The couple was hardworking and righteous, and Little Wu grew up and also became an honest and benevolent man, so the old couple let their daughter marry him.
To repay the couple's kindness, Little Wu worked hard every day. One day his father-in-law was suddenly struck ill, and wanted to have fish before dying. However, a consistent strong wind prevented the launch of all fishing boats. The father-in-law's health became worse and worse, but Little Wu risked his life and went fishing.
When Little Wu finally came back home with a big, fresh mackerel, the father-in-law had passed away. Little Wu and his wife were sad and cried. They cooked the fish and sacrificed it at the father's shrine. Later, the young couple worshipped at their father's tomb with fresh mackerel every spring.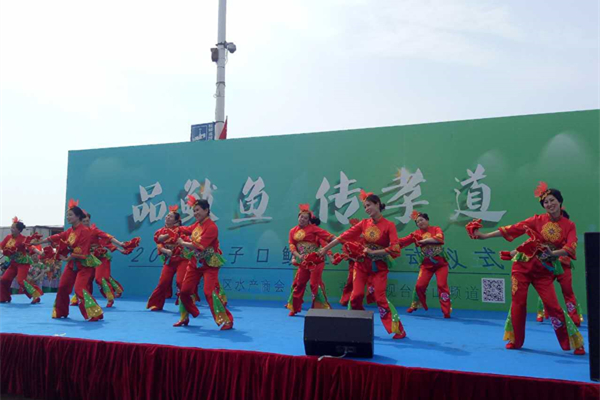 Dancers perform during the Mackerel Festival in Qingdao, Shandong province, April 17, 2017. [Photo by Wang Yonghong/chinadaily.com.cn]
For hundreds of years since then, it's become a local tradition for married men to present mackerel to parents-in-law to show their benevolence.
In the 1980s Laoshan district government even set a day every April to celebrate the Mackerel Festival. The festival is aimed at raising more social awareness of caring for the elderly. The festival has been listed as a district-level intangible cultural heritage. This year the festival started Monday and runs till May 1.
Spanish mackerel are distributed in the Western Pacific and spread to China's shores via the Bohai Sea, the Yellow Sea and the East China Sea. At the Shazikou fishing port in Laoshan, mackerel is more highly prized than other fish due to its delicate and dense meat, caused by the fish's habitat in cooler waters.