Shanghai still top spot for those moving from abroad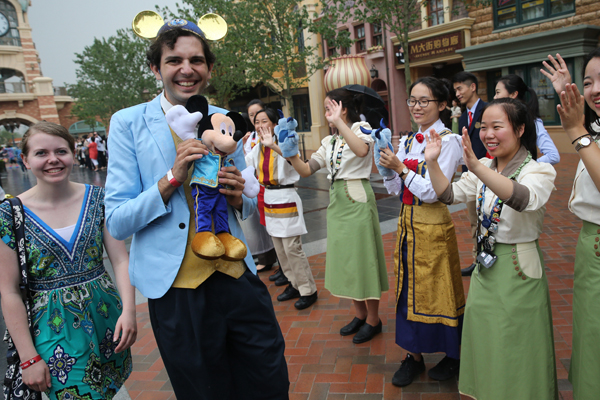 Two foreign tourists receive a warm welcome at Shanghai Disneyland for the theme park's grand opening on June 16, 2016. Spots like Disneyland can help attract foreigners. Pei Xin / Xinhua
Shanghai has ranked as the "most attractive" city for foreign residents for the fifth consecutive year due to its international atmosphere and multicultural environment, according to an annual survey.
Beijing, the nation's capital, remained second, thanks to its advantages in healthcare and educational resources, while Hangzhou, the so-called "Heaven on Earth" in Zhejiang province, held onto third place.
The rankings, released Saturday, were based on a survey of about 25,000 expatriates nationwide in December and January. The criteria ranged from the living environment and local culture to administrative services and favorable policies for foreign residents.
The China Society for Research on International Professional Personnel Exchange and Development launched the annual survey in partnership with the International Talent magazine in 2010 as a way to promote the nation's cities.
One of the biggest changes in the top 10 was for Qingdao, a coastal city in Shandong province, which moved up two places to fourth, replacing Shenzhen, the southern metropolis, which slipped to sixth.
Qingdao scored much higher than Shanghai and Beijing in terms of air pollution and traffic congestion, as did Suzhou, a picturesque city in Jiangsu province, which placed seventh.
This year's survey also showed China's rapid economic growth and its future development potential are major draws for foreigners with a long-term plans to work or live in the country.
More than half of all respondents said the environment was the most important factor when considering staying long term, while preferential policies also were a major concern.
Loic Bastard, a Frenchman who works for Envision Energy and has been based in Wuxi, another city in Jiangsu, for two years, said he enjoys living in his "clean" and "beautiful" adopted home.
"With easy transportation, good infrastructure and a good environment, smaller cities have gained more competitiveness compared with metropolises," he said. "With an increasing number of preferential policies from the local government, I think second- and third-tier cities will be attractive to more foreign expats."
yangwanli@chinadaily.com.cn