Nothing like a textbook case of learning
Disillusioned with standardized, test-based tuition, some parents are setting up their own schools. Zhao Xinying reports.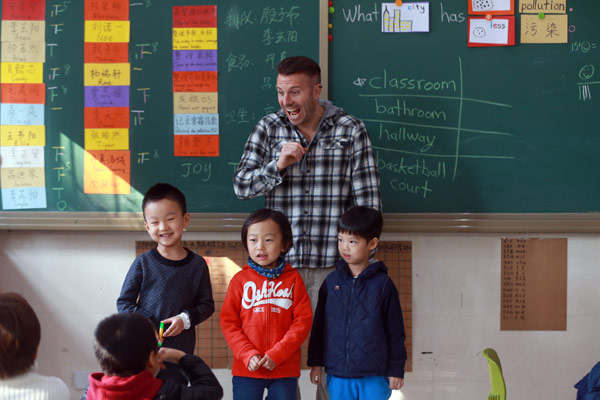 Brad Walsh, a Canadian teacher at ETU, with some of his students.[Photo by Zou Hong/China Daily]
Having seen the ETU School in Beijing develop from an idea to a facility with 15 full-time teachers and more than 30 students, co-founder Li Yinuo is confident of success and feels ready to take the next step.
"Our goal for 2017 is to expand our school from the current scale of K-Grade 1 (kindergarten to Grade 1) to K-Grade 3, which means a further 80 or 90 students will be recruited in the academic year that will begin in September," said the mother of three, a former partner at McKinsey, a global management consultancy, in Beijing and Palo Alto, California.
ETU is located on the campus of the No 80 High School in Beijing's Chaoyang district. Although it has just three classrooms and one teachers' room, the school has attracted attention from parents disillusioned with standardized, test-oriented education in traditional schools. A large number of education specialists seeking innovation in the field have also expressed an interest.
When ETU's spring semester started in February, Feng Shu transferred her 6-year-old son to the new project from an international school near Beijing's North Fifth Ring Road.
"Although the facilities and hardware at ETU are not as fancy as those at my son's previous school, I took the decision to bring him here because I believe that rather than producing 'testing machines', ETU tries its best to help children discover themselves and help them to become happy, fulfilled people," the Beijing resident said.
Finding a way out
The idea of establishing the school came to Li early last year when she was trying to move her family back to Beijing from California's Silicon Valley. Like many parents, Li found it hard to find an ideal place for her eldest son.
"Our efforts to find a satisfactory school ended in vain because the public ones available to us were too uniform and reliant on tests, while international schools offer an education that is too Westernized and lacks Chinese roots," she said.
Li is not alone in her concerns. Yang Dongping, director of the 21st Education Research Institute, a think tank in Beijing, said many parents are concerned and dissatisfied with their children's education. They believe State schools are too reliant on exams, and the excessive workload exerts too much pressure on children.
"But for a long time, parents could only face this education system with an attitude of 'tolerate, criticize and go back to tolerating'," he said, adding that many parents choose to break the cycle by sending their children to study overseas.
That dissatisfaction may be one of the driving forces behind a recent exodus of children. At the end of 2015, almost 35,000 Chinese children were studying at K-12 level in the US, according to a report published last year by Eol, a leading Chinese education portal. In 2010, the number was about 9,000.
Li was reluctant to follow that path because she didn't want her son to grow up as a "foreigner", knowing little about Chinese language and culture. She said she had seen many young Chinese in the US "suffering from a vague national identity and failing to integrate into either community".
In her opinion, the ideal education should be tailored to inspire, motivate and protect children's intrinsic desire to learn, tap their potential, discover their strengths and help them become the person they want to be. It also should help them grow up as globally competent citizens, or as she described it, "truly Chinese, truly global".
According to Yang, rather than complaining and leaving, many parents, particularly well-educated couples in big cities, are now trying a "third way" by conducting educational experiments and exploring diverse forms of learning, such as homeschooling, which is discouraged by the education authorities.