Jinan city reported to have fastest bike-sharing riders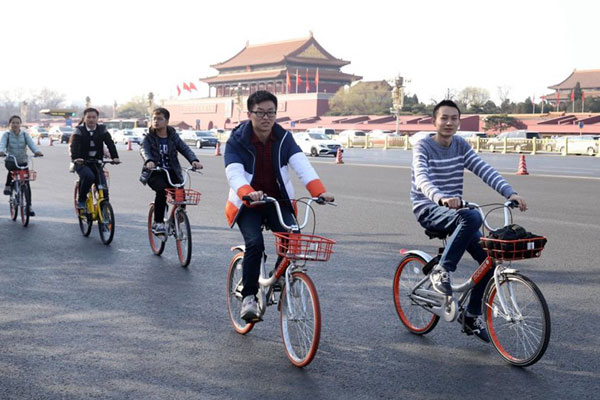 People ride shared bikes along the Chang'an Avenue of Beijing on March 10, 2017. [Photo/People's Daily Online]
Bike-sharing riders in Eastern China Jinan city are now the fastest bikers with an average of 6.2 minutes per kilometer, a report said on Wednesday.
The White Paper of Shared Bikes and City Development, the first of its kind, was released by the Tsinghua Tongheng Urban Planning & Design Institute and bike-sharing startup Mobike. The report is based on 100,000 questionnaires and one-year big data that Mobike collected from its bike users in 36 major cities.
The report shows that Haikou, a famous tourist city, rides farthest for an average of 2.8 kilometers per ride, while Shanghai rides the shortest distances for an average 1.8 kilometers.
Riding habits reveal cities' diverse characteristics. Beijing sees the earliest risers with rides peaking in the morning, while sleepless city Shenzhen has the most riders at midnight and early hours. Chengdu users like to go to recreational spots, while Wuhan riders are frequent visitors to libraries.
The report reveals that about one-third of users ride for fun and exercise, and one-fifth of riders use bikes for commuting.
People born between the 1970s and 1990s accumulatively account for more than 70 percent of all users. Users born between the 1980s and 2000s usually ride to school or work, while those from the 1940s and 1950s often ride to restaurants and shopping centers.
Men ride more often than women, with the most common users being men born between 1985 and 1989 and the fewest users being retired housewives.
Unexpectedly, the fastest and farthest riders are retired grandpas, who usually ride outside of rush hours. The slowest riders are female university students while the shortest-distance riders are office ladies.
The nature of bike-sharing requires high-quality users. Shanghai riders are most active in keeping the market in order, followed by Beijing, Shenzhen, Guangzhou and Chengdu.
A rider in Guangzhou set a good example for civilized users by correcting 5,448 bike-sharing violations.