Team to help autistic boys adapt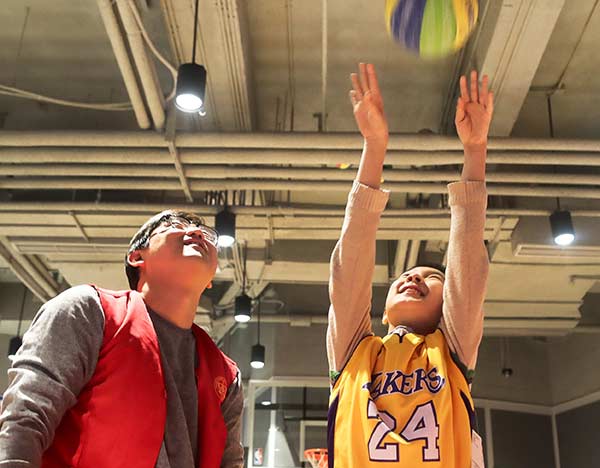 A child with autism plays basketball in Shanghai on Sunday. CHINA DAILY
The country's first basketball team established to help autistic children boost their interpersonal skills and become more integrated with society was founded in Shanghai on World Autism Awareness Day on Sunday.
Twelve children ages 8 to 12 formed the first group of players on the team, and monthly training will be organized for them by the Shanghai-based Children's Hospital of Fudan University, which set up the team.
All the players are boys and Wang Yi, vice-president of the hospital, explained the ratio of boys and girls suffering from autism spectrum disorder is roughly 4 to 1 and boys may be more inclined to sports activities, so their parents signed them up for the team.
China has more than 10 million children who have autism.
Their symptoms include differences and disabilities in areas including social communication skills, motor skills and sometimes intellectual skills as well as usual responses to sensory input, such as unusual sensitivity to sound and light, said Wang, one of the country's leading experts in this field.
She said sports such as basketball, jogging and swimming, are widely acknowledged ways to help autistic children relieve negative emotions and boost their communication skills and self-confidence.
Liu Siyuan, a physical education teacher at a kindergarten in Shanghai, was appointed coach of the team because of his patience and kindness to children.
"I found that they're interested in shooting hoops, but they can only stay focused for about 15 minutes.
"I hope the 12 children can form two small groups and play a game, with the assistance of volunteers, after exercising for some time," Liu said after an hour's training on Sunday.
The basketball team invites eligible autistic children around the country to join in.