Competition and certificates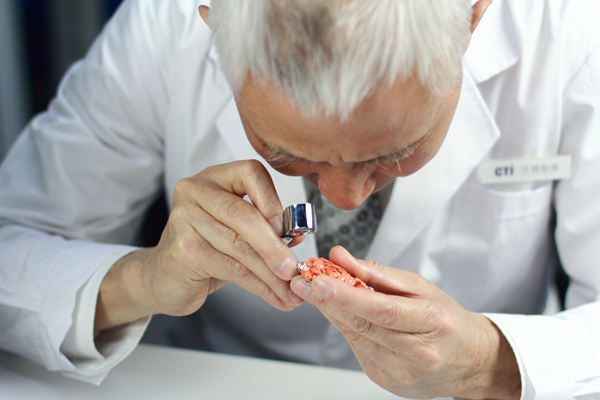 An appraiser assesses a piece of jewelry. [Photo provided to China Daily]
When Zhang Zhufu obtained the national certificate for jewelry appraisers in 1997, he felt proud of becoming a member of China's first group of professionals in the luxury-goods industry.
"At the time, jewelry appraisal was widely deemed a high-end profession. Although most people knew little about it, they respected it," said Zhang, who holds a doctorate in gemology.
"Now, appraisal has become a low-end segment of the jewelry trade that only plays a supporting role, similar to packaging. Some people even call us 'the ones who make certificates'. That is really disappointing."

In recent years, the sluggishness of the jewelry business in Shuibei, a village in Shenzhen, Guangdong province, has exerted a direct impact on the lives of local jewelry appraisers. What makes them more frustrated, according to some industry insiders, is the decline in their status as a result of the lack of a market-oriented system.
In years gone by, jewelry-appraisal organizations were mainly run by the government, though there were a small number of private outfits.
More private companies moved in as the government gradually opened-up the market, which caused problems, said Duan Xiaotong, general manager of Center Testing International, a jewelry-testing organization in Shenzhen.
"The arrival of private organizations affected the vested interests of certain groups, who fought to prevent their entry. The players competed fiercely with each other in an effort to gain a bigger slice of the market by launching price or brand wars. That led to vicious competition," he said.
"Meanwhile, the regulators have set so many standards for jewelry appraisal that a limited number of players are providing similar services, which has resulted in homogenization. Repetitive and tedious work has dampened the enthusiasm of jewelry appraisers, and it seems like they have become workers on an assembly line. As a result, many have quit."
At present, there are around 50 jewelry-appraisal organizations in Shuibei. The services they offer are often indistinguishable from one another, and the cost of a single appraisal can be as low as 2 yuan (29 cents).
Some of the organizations have even become certificate "producers", printing a large number of certificates every day, despite not conducting tests themselves.
"In many other countries, jewelry-testing organizations place technology and reputation as their top priorities. To ensure quality of service, professionals are allowed to appraise no more than 10 pieces of jewelry a day," Zhang said. "Here, the main thought of some organizations is how to beat their rivals."
The current chaos also means there are opportunities to explore, according to Duan: "The industry is in a period of flux during which uncompetitive players will gradually be washed out of the market. Meanwhile, with the increasing opening-up of government policies, those with new technology and a good reputation will stand out and be able to offer more quality services."