Low-end stores boast high security
It was a Thursday afternoon when I first visited Shuibei, a village in Shenzhen, Guangdong province, well-known for its jewelry industry. In my imagination, the village was a cluster of delicately decorated modern buildings, but to my surprise, many of the jewelry stores are located on the ground floors of shabby old buildings.
It was a work day, but a lot of people were walking on the streets. However, it seemed that most of them were not involved in the jewelry business; they lived there or were just passing by. There were few customers in the stores.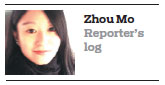 Despite the seemingly disordered environment, security is tight in this area with its billions of dollars worth of luxuries. You can sometimes see people walking on the street tightly clutching black plastic bags containing gold bars.
Jeweler Huang Binqing told me he has no need to worry about security because surveillance cameras have been mounted every 10 meters and a police station is located nearby. Moreover, many businesses hire security guards to further ensure the safety of their goods.
"The whole jewelry village is covered by a surveillance network," Huang said. "In all these years, not a single robbery has ever happened here."