Xi's call for fairer globalization backed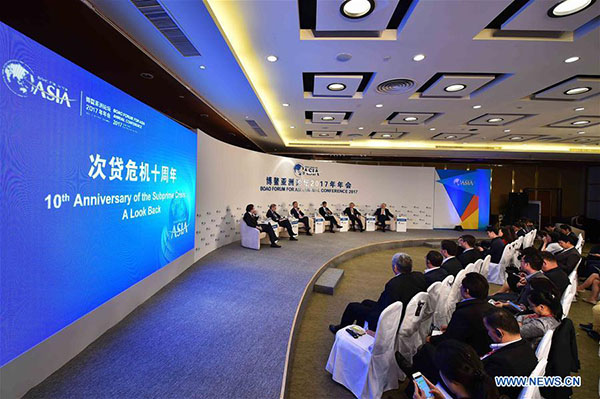 The session of "the 10th Anniversary of the Subprime Crisis: A Look Back" is held during the Boao Forum for Asia Annual Conference 2017 in Boao, south China's Hainan Province, March 26, 2017. [Photo/Xinhua]
President Xi Jinping's call for inclusive and sustainable globalization received international recognition and support at the Boao Forum for Asia, with participants agreeing that greater inclusiveness and fairness are needed to ensure shared benefits and common prosperity.
Political leaders, academics and entrepreneurs from home and abroad attending the forum in Hainan province acknowledged China's role in not only defending globalization but also mobilizing coordinated efforts to address the problems and fix the flaws in the global economic system, observers said. The forum ended on Sunday.
In a letter, Xi called on forum participants to pool their wisdom to solve the major problems facing the world and regional economies and to push a more dynamic, inclusive and sustainable globalization process.
Xi said that the theme of the forum-Globalization and Free Trade: The Asian Perspectives-reflected the keen attention on the issue from the international community, especially in Asia.
The president lauded the role of the forum in building an Asian consensus, promoting Asian cooperation and upgrading Asian influence since its establishment 16 years ago.
Vice-Premier Zhang Gaoli, in his keynote speech, stressed that Asian countries should collectively push for a more inclusive globalization, promote balanced and fair development and reform global economic governance.
Forum participants' statements showed their recognition that globalization is an inevitable trend and a natural outcome of scientific breakthroughs and technological progress that have enabled many countries to achieve substantial economic and social progress.
But they pointed out pressing issues such as widened inequality and fragmentation of global trade, which should not be neglected as trade and investment are liberalized.
In a joint declaration, members of the forum said that reversing globalization is unlikely to solve problems, and could even create new challenges for global growth. They agreed that the world must adapt to the globalization trend and reform global governance.
Former French prime minister Jean-Pierre Raffarin said that multilateralism should increase the inclusiveness of globalization, warning that "ever-increasing" bilateral interactions could cause trade imbalances.
"We see the tendency of countries to go around multilateral systems such as the United Nations. If we want to ensure the inclusiveness of globalization, we need multilateral arrangements and all participants sitting at the table," he said.
Hans-Paul Burkner, chairman of the Boston Consulting Group, a US-based worldwide company, said globalization has benefited the majority of people in the world and countries should work together to promote fair trade and to address the challenges facing globalization.
"As we go forward, with tension and protectionist measures rising, we need to continue to open up and to encourage the fair exchange of goods and services as President Xi also mentioned ... and to make sure it is win-win," he said.
While recognizing the positive role of globalization, Nepali Prime Minister Pushpa Kamal Dahal noted that imbalances in its benefits are evidenced by the expressions in some countries of people feeling marginalized.
He said Asia is an ideal region to lead the next phase of globalization, and future efforts should focus on increasing inclusiveness to avoid dividing people into winners and losers.
Forum participants said they also agreed that stepping up domestic structural reforms, facilitating innovation to generate new businesses and jobs, and taking effective measures to deal with the cost of free trade will help solve problems in the globalized world.
Jin Liqun, president of the Asian Infrastructure Investment Bank, said that blaming globalization works in no one's interest and governments should improve their social and economic policies to address the downsides of globalization, such as the loss of jobs in some sectors.
Former US secretary of commerce Carlos Gutierrez pointed out that governments should focus on preparing for the rapid development of robotics and automation rather than blaming globalization as a cause of unemployment.
"The biggest threat in the future is not trade and globalization but robotics, as millions of jobs could be lost because of that. ... Governments should retrain people who lose their jobs so they can get new skills that will be relevant in the future," he said.