Hong Kong elects first female chief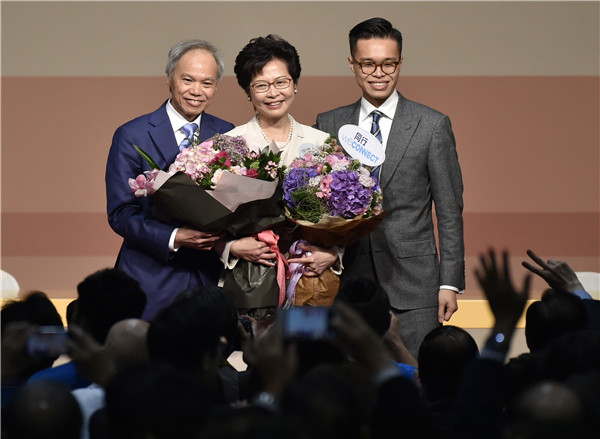 Lam Cheng Yuet-ngor appears with her husband and son after she is elected on Sunday as the next chief executive of China's Hong Kong Special Administrative Region.
Lam Cheng Yuet-ngor vows to unite city so it can advance in solidarity
HONG KONG-Lam Cheng Yuet-ngor, who will become the first woman to serve as chief executive of China's Hong Kong Special Administrative Region, vowed after her election victory on Sunday to lead Hong Kong forward in solidarity.
After being approved by the central government, Lam, 59, will be the fifth-term chief executive since Hong Kong's reunification with the nation.
"The work of uniting our society to move forward begins now," she said, adding that during the election process, she heard the heartfelt expression of the people and learned and experienced many new things.
Lam said she will meet with people from different sectors to discuss issues like the development of Hong Kong, including applying new resources to education, tackling housing problems and introducing new financial and tax measures.
She also stressed that she will do her utmost to uphold "one country, two systems" and to guard Hong Kong's core values.
Lam has proposed to increase recurring expenditures for education by HK$5 billion ($644 million). She said she will reach out to various stakeholders and legislators on how to apply new resources.
"I am confident that we can put aside any differences and achieve a win-win situation," she said.
Lam proposed to apply financial and tax measures strategically through a two-tier tax rate system on profits and tax deductions to incentivize research and development.
She said she would invite employers and employees in all sectors as well as experts and academics to come up with ideas.
On the housing issue, she said, "I have pledged to help Hong Kong people attain homeownership and to improve living conditions. To do this, we need more usable land."
Lam also said large parts of her campaign platform were inspired by young people. "In this campaign, I have felt deeply our younger people's strong desires and their passion for Hong Kong," she said.
In the chief executive's race, decided by a 1,194-member election committee, Lam garnered 777 votes to 365 for former financial secretary John Tsang Chun-Wah and 21 votes for retired judge Woo Kwok-Hing.
Lam used to be the chief secretary of administration. She now awaits appointment by the central government and will succeed incumbent Chief Executive Leung Chun-ying on July 1.
Xinhua