Working together to curb pollution
Hebei province has received huge amounts of financial support from Beijing and Tianjin municipalities to curb its levels of air pollution during the past two years.
According to the Beijing Municipal Environmental Protection Bureau, two cities in Hebei received a total of 962 million yuan ($139 million) from the capital in 2015 and 2016.
The money was used to eliminate coal-fired boilers and promote the use of clean energy in Langfang and Baoding, which border Beijing.
In addition to financial support, Beijing has given technological guidance and has shared its experience with Hebei on how to control pollutants that arise from burning coal.
"With Beijing's help, the two cities have removed more than 4,000 coal-fueled boilers and reduced coal consumption by 8,000 metric tons during the past two years," Yu Jianhua, chief engineer of the bureau, was quoted as saying by China News Service.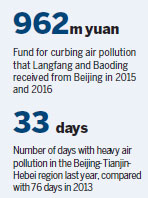 Encircled by the industrial province of Hebei, which is known for its poor air quality, Beijing is regularly hit by air pollution despite strict controls on the discharge of pollutants in the capital.
According to Zhang Dawei, director of the Beijing Municipal Environmental Monitoring Center, 28 to 36 percent of the capital's air pollutants are transmitted from other regions.
The main pollutant is PM 2.5 - fine particulate matter that's less than 2.5 micrometers in diameter and harmful to human health - that can be transmitted in large amounts, he said.
"All cities in North China certainly influence each other's air quality," Zhang said in an interview with Beijing Daily.
As close neighbors, Beijing, Tianjin and Hebei have been cooperating to fight air pollution for about four years.
Similar to Beijing, Tianjin has provided 800 million yuan to Hebei's Tangshan and Cangzhou in a bid to help control coal consumption.
In all, more than 7,900 coal-fired boilers have been removed from the four cities and coal consumption has been reduced by 3.2 million tons, according to the bureau.
Since 2013, the three local governments have worked together on protecting the regional environment by sharing information and holding joint weather emergency response meetings, as well as drawing up unified standards and pollution-control policies.
The joint efforts to improve the region's air quality have yielded some good results.
Last year, the average density of PM 2.5 in the Beijing-Tianjin-Hebei region dropped by 33 percent from 2013 levels to 71 micrograms per cubic meter.
The number of days with heavy air pollution in the region fell to 33 days from 76 days in 2013, a 56.1 percent reduction, according to statistics from the bureau.
Yet Environmental Protection Minister Chen Jining is not resting on his laurels.
This year, Beijing plans to reduce its average concentration of PM 2.5 to around 60 micrograms per cubic meter.
"To reach that goal, we need regional cooperation to cut the pollution transmitted from outside the capital, in addition to Beijing's own efforts to curb air pollution," he said.
zhangyu1@chinadaily.com.cn