110kg fetus found in dead sperm whale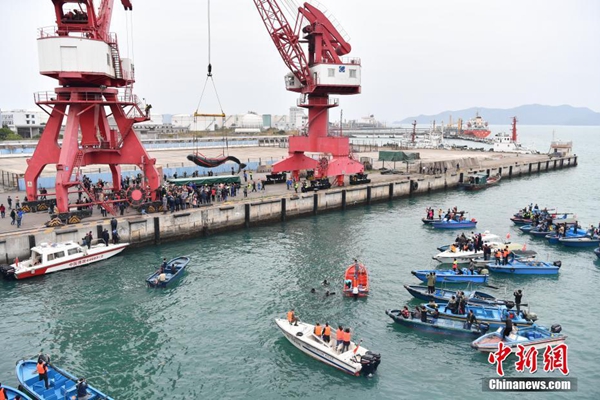 A crane hoists a sperm whale that died after being stranded in the waters off Daya Bay in South China's Guangdong province, March 15, 2017. [Photo/chinanews.com]
An autopsy on a sperm whale that became stranded in Daya Bay, in South China's Guangdong province, has revealed the whale was pregnant, chinanews.com reported on Thursday.
The developing 110 kilogram male fetus, about two meters in length, was removed but could not be saved.
"It is the first time that an unborn baby has been found inside a stranded sperm whale in the world," said Tong Shenhan, head of the land and marine life research institute of Xiamen city, who participated in the autopsy.
He believed that the finding would be of significance to the protection and rescue of sperm whale.
On Thursday, a group of about 20 experts from the School of Marine Sciences of Sun Yat-Sen University, Hong Kong Ocean Park and other institutes, conducted the autopsy in Huizhou Fishery Research and Extension Center, in Guangdong, taking samples of skin, fat, muscle and blood from the adult sperm whale.
They unexpectedly found milk in the whale's breasts and then a placenta 2.6 meters in length.
The fetus will also undergo an autopsy, which is expected to take about one month due to its difficulty.
On Sunday morning, fishery authorities in Shenzhen city received a report of an adult whale trapped in fishing nets in waters off Daya Bay.
After the whale was freed from the nets, authorities and zoologists tried to guide it back into deep sea. However, it continued to swim in shallow waters off Shenzhen and Huizhou cities. It was confirmed to have been stranded near a wharf Tuesday afternoon and died Wednesday.
Tong said that the whale, estimated to be about 5 years old, was healthy and had no visible injuries.
He does not think it was tangled to death by fishing nets but the cause of death will be verified in at least a month.
The animal, weighing 14 tons and stretching 10 meters long, was lifted by a crane from the water in Huizhou port on Wednesday and was transported to Huizhou Fishery Research and Extension Center.
Huizhou has invited experts to conduct research on the whale examining its physiological structure, molecular biology, zoology and pathology, to provide more scientific data and theory for the protection of the endangered sperm whale.
The autopsy on the adult whale will continue over the next two days.
The city also plans to preserve four specimens of the animal's skin, bone, viscera and placenta.