Philippines' remarks on ships praised
Beijing, Manila have huge potential for cooperation if disputes 'set aside'
China welcomes Philippine President Rodrigo Duterte's move to allow Chinese research ships to enter waters close to the Philippines where Chinese survey ships were spotted last year, a Foreign Ministry spokeswoman said on Tuesday ahead of a senior official's trip to Manila.
China fully respects the Philippines' continental shelf rights over Benham Rise, and such rights have never been challenged by China, spokeswoman Hua Chunying told a regular news conference.
Hua said that according to the basic norms of international laws, continental shelves and exclusive economic zones do not belong to territory. A coastal state's rights over a continental shelf should not affect other countries' freedom of navigation, as supported by international laws, she said.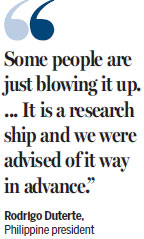 "As President Duterte mentioned, China and the Philippines have already communicated on the relevant issues, exchanged views in a friendly manner, established the facts and handled the issue properly," she said.
Duterte told reporters on Monday that he had agreed to allow Chinese research ships to sail in Benham Rise waters. "Let us not fight about ownership or sovereignty at this time, because things are going great for my country," Duterte said.
"Some people are just blowing it up. We previously agreed. It is a research ship and we were advised of it way in advance," he said.
The Philippine president's remarks were in stark contrast to those of the country's defense secretary, Delfin Lorenzana, who said last week that he had "ordered the navy, if they see this service ship this year, to accost it and drive it away".
On March 10, Foreign Ministry spokesman Geng Shuang said that in 2012, the United Nations Commission on the Limits of Continental Shelf approved an application from the Philippines for a 200-nautical-mile outer continental shelf limit in Benham Rise.
Accordingly, the Philippines may exploit natural resources there, but it cannot regard it as its territory, Geng said.
Vice-Premier Wang Yang will visit the Philippines from Thursday to Sunday. He will meet with Duterte, attend the opening ceremony of the China-ASEAN Year of Tourism Cooperation and deliver a keynote speech at the opening ceremony of the China-Philippine Economic and Trade Forum, Hua said.
Bilateral ties were undermined by an arbitration case against China in relation to the South China Sea that was unilaterally launched by former Philippine president Benigno Aquino III. However, relations between the two countries have improved since Duterte's visit last year.
Jin Yong, a professor of international relations at Communication University of China, said that China and the Philippines should set aside their maritime disputes, as the two sides have huge potential for cooperation in areas including infrastructure and trade.