Going downhill, but raising living standards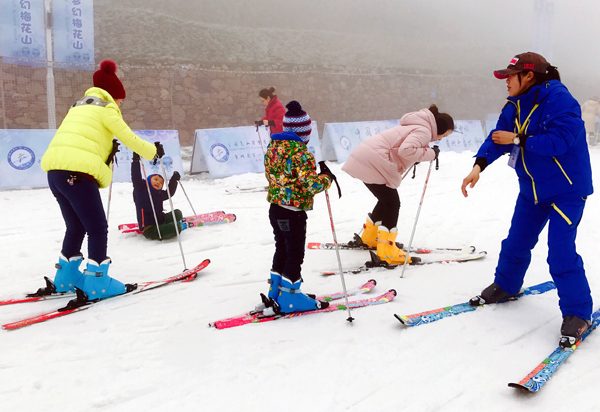 Children learn to ski at the Meihuashan International Ski Resort in Liupanshui, Guizhou province. [Photo/Xinhua]
All 206 households in Gaolu village, which is located on the part of the mountain that is home to the Meihuashan resort, have become shareholders in the company that operates the resort by granting it right to use their land. Their contribution accounted for 20 million yuan of the 350 million yuan that has so far been invested in the resort and related facilities.
Between this year and 2021, the villagers expect to receive a combined annual dividend of 400,000 yuan from the resort's revenue, and 20 percent of the amount will be directly allocated to support the 75 households now living below the poverty line, according to Zhang Liangkai, the village chief.
"Even though the resort isn't yet running at full capacity, our people have already made a better living by participating in its construction and related facilities," he said.
About 20 impoverished villagers from Gaolu are employed by the resort's security, catering and equipment-maintenance teams, while a major construction project provided jobs for 120 villagers in 2015.
By the end of last year, the annual per capita income in the village had risen to nearly 8,000 yuan, from 4,860 yuan in 2014.
"In the past, we ate potatoes three meals a day because no other commercial crops could be cultivated on the rugged landscape. Now, we can afford to buy cars, and many people from outside the mountain have visited our village, which has made a huge difference," said Chen Jun, a 36-year-old Gaolu native who works in the resort's six-man patrol team.
However, the lack of professional winter sports skills and operational expertise has emerged as an issue for locals who want to run the business sustainably on their own, according to insiders.
"The market potential for winter sports and recreation is something to be reckoned with in this part of the region. Staff training, especially for locals, should be improved because the demand for high-end talent in advanced ski instruction, slope grooming and event operation, rather than just waiters and cleaning ladies, may grow very quickly," said Zhu Chengyi, vice-chairman of the Chinese Ski Association.
According to Liu Guanwen, deputy general manager of the Meihuashan resort, most of the 300 technical and operational staff come from Northeast China, while all 150 ski instructors at the Yushe Snow Mountain Resort, Meihuashan's co-host for the alpine skiing event, were hired from Heilongjiang province, which is also in the northeast.
"We are planning a training program in collaboration with mature resorts and local occupational schools to consistently nurse talent for the resorts in Liupanshui," Liu said.