Rural teacher wins high acclaim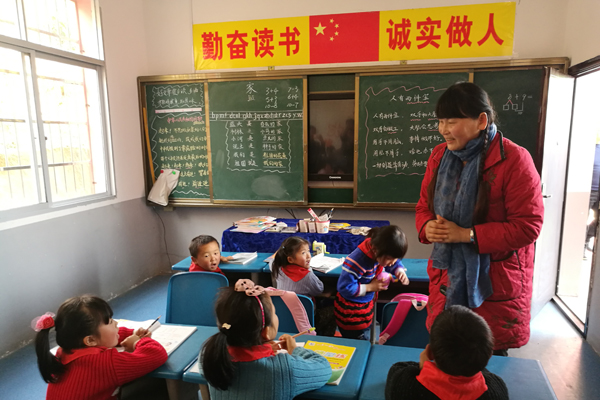 Zhi Yueying gives a Chinese lesson to students at the primary school in Baiyang, Fengxin county, in Jiangxi province. [Photo by Wang Jian/China Daily]
Celebrated educator has worked in remote village schools for almost four decades
Few teachers are as devoted to their profession as 55-year-old Zhi Yueying, who has spent the best part of four decades educating children in remote villages in Jiangxi province.
On Feb 8, she was honored for her contribution to society at the China Central Television's annual "Touching China" awards.
Standing on stage with her trademark long braid and pink cheeks, she played down the 36 years she has spent teaching, describing herself as "just an ordinary person doing ordinary things".
Zhi began teaching at age 19 at a primary school in her home county of Jinxian in Jiangxi.
A little while later, she received a letter from her old classmate Cai Jiangning, informing her of a new school in Niyang village, Zaoxia township, where he was working.
The village, deep in the mountains of Fengxin county at an altitude of about 1,000 meters, is 45 km from the nearest town.
Zhi had feelings for Cai, so she applied for a position at the school, passing the entrance exam with the second highest score. The school was more than 200 km away and her family did not want her to go, but Zhi had made up her mind.
To get to Niyang, she had to walk along rugged mountain trails for more than 2 hours after a two-hour bus ride from the nearest town.
Unlike her former school in Jinxian, her new place of work in Niyang lacked all but the most basic teaching resources. The village was short of food, so Zhi grew vegetables in her own plot of land and because there were no roads, she and her colleagues had to carry their textbooks, chalk and other supplies into the mountains on their backs.
"Children in the mountains have no idea about the outside world, so knowledge is their only hope of leaving," she said.
Zhi's care for her students was not limited to the classroom. When she noticed that some girls had stopped attending school, she visited their families' homes and convinced the parents of the importance of education. She also helped poorer parents pay for tuition fees, even though she could barely make ends meet herself.