Going downhill, but raising living standards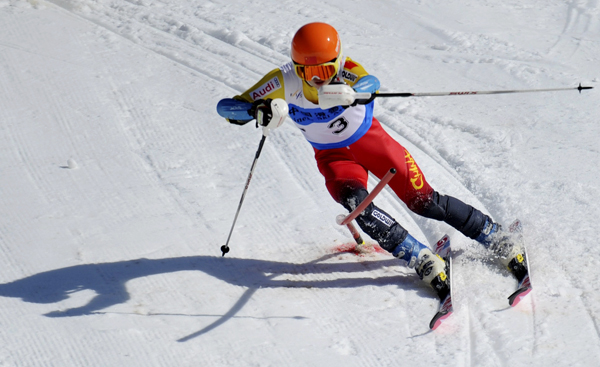 Mu Chengze participates in the men's slalom at the National Youth Alpine Skiing Invitational Tournament in Liupanshui. [Photo/Xinhua]
Hard times
Liupanshui was established in the 1970s, after the government called for greater urbanization of the rural southwestern region, which is home to a number of ethnic groups. The city gradually developed a resource-dependent economy based on mining and the extraction of raw materials, but the area has struggled in the past decade as a result of economic restructuring geared toward eco-friendly and high-tech industries.
Hampered by the slowdown and the poor transportation infrastructure in the mountains, nearly 390,000 rural residents of the city's total population of 3.28 million live below the poverty line.
In 2015, the poverty line for rural residents was 2,800 yuan ($408) per person, according to the State Council Leading Group Office of Poverty Alleviation and Development, which adjusts the standard every year.
Boasting a mild climate, scenic landscape and abundant forests, which cover almost half of its territory, Liupanshui is ambitiously promoting its tourism resources, anticipating an economic turnaround, while the national strategy to boost the winter sports sector for the 2022 Olympic Games has given the city's efforts a timely push.
"The whole country has been mobilized (for the development of the winter sports industry). Given the excellent natural conditions we have, we don't want to be left behind," said Zhou Rong, Liupanshui's mayor, at the opening ceremony of the tournament at Meihuashan.
In November, the General Administration of Sports, the nation's leading sports body, published a national plan to built 650 skating rinks and 800 ski resorts by 2022, up from the current 200 and 500 respectively. That will lay the foundations to involve 300 million people in winter sports and related activities, as envisioned by President Xi Jinping in July 2015, when Beijing and co-host Zhangjiakou were awarded the rights to host the 2022 Winter Games.
Living standards rise
A number of underprivileged families around the city's new resorts have already benefited from the winter sports boom.