Classical Chinese poetry admired beyond borders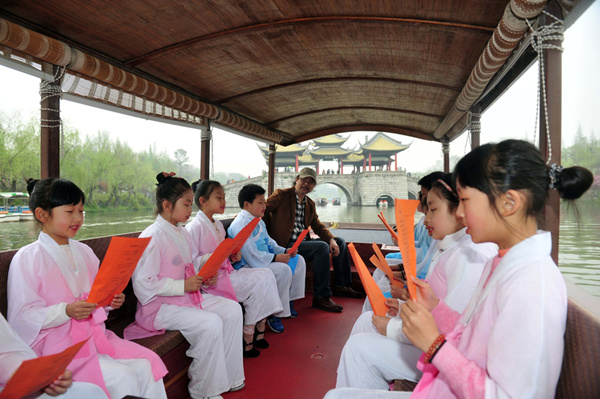 Children read classical Chinese poems on a boat in Yangzhou, Jiangsu province, April 2, 2016. [Photo/VCG]
Many Chinese people rekindled their interest in classical Chinese poetry recently thanks to a popular show that aims to "appreciate classical Chinese poetry, explore cultural genes and enjoy the beauty of life" by combining traditional literary form with light-hearted TV quizzes.
On Tuesday night, the surprisingly popular poetry recitation show "Chinese Poetry Conference" aired by China Central Television came to a climatic end with Wu Yishu, a 16-year-old high school girl from Shanghai, claiming the championship for the show's second season.
Wu and other contestants' performance in the weekly show won the hearts of hundreds of thousands of viewers, regardless of age.
But just like the Russian poet Yevgeny Yevtushenko once said, "Poetry is like a bird, it ignores all frontiers". The show's viewers may not know that classical Chinese poetry has also enjoyed great popularity beyond national borders, both in ancient and modern times, inspiring many foreign writers, composers and even hippies.
Many readers in the US were first introduced to classical Chinese poetry by Ezra Pound (1885 –1972), who was an expatriate American poet and critic, and a major figure in the early modernist movement. In Cathay, Pound, who didn't know the Chinese language, translated 18 classical Chinese poems into English based on the notes of Ernest Fenollosa, an American art historian. These translations of medieval poems, mainly by Li Po (AD 701-762), are acknowledged masterpieces.
Upon the publication of the volume, T. S. Eliot famously observed that Pound had become "the inventor of Chinese poetry for our time." William Carlos Williams remarked that "If these were original verses, then Pound was the greatest poet of the day."
In 1960s, Han Shan (literally "Cold Mountain"), a relatively unknown Tang Dynasty (618-907) poet in China, became an idol for the Beat Generation in US. Thematically, Han Shan draws heavily on Buddhist and Taoist themes, often remarking on life's short and transient nature, and the necessity of escape through some sort of transcendence. He was a sympathetic and important figure for writers Gary Snyder and Jack Kerouac.
Han Shan's works also correspond with the hippie culture and the craze for Han Shan in the West continued for two decades.
Besides offering romantic imagery for its readers, classical Chinese poetry also inspires many musicians with its beautiful rhythms.
In 1905, German poet Hans Bethge published The Chinese Flute, a collection of translated poems from the Tang Dynasty. The translated poems later were made into songs by Austrian composer Anton von Webern.
The text was also used by Gustav Mahler from Austria when composing his famous The Song of the Earth.
Belonging to the Chinese character cultural sphere, the Korean peninsula has been deeply influenced by traditional Chinese culture in language, art and daily life since ancient times. Poetry is no exception.
Choi Chiwon (857-10th century), a noted Korean poet, studied many years in China and many of his works were inspired by ancient Chinese poetry masters.
Researchers found that in 1483, Korea had translated more than 1,400 poems by Du Fu (AD712-770), a prominent Chinese poet of the Tang Dynasty universally dubbed "Poet-Sage". Even today, some of Du's works are still taught in high schools in the Republic of Korea.