Pangolin dinner prompts calls for species' protection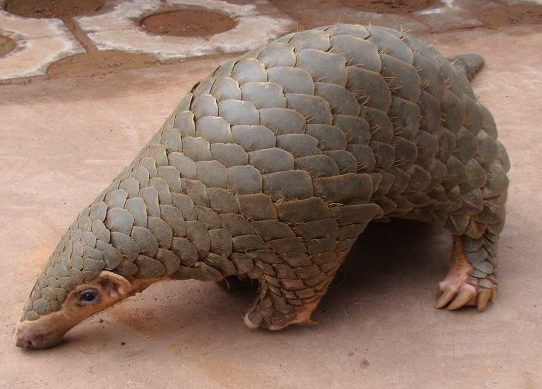 The Chinese pangolin is said to be extinct in the wild.[Photo provided to China Daily]
Animal listed as 'critically endangered' after population declined by up to 94%
Conservation groups have called for governments to increase protection of the Chinese pangolin after a social media post triggered public concern over this critically endangered wild mammal.
A Sina Weibo user posted four pictures from 2015 showing a pangolin meat banquet held for a business delegation from Hong Kong in the Guangxi Zhuang autonomous region. This triggered public criticism and has led to a probe.
The Chinese pangolin, one of the eight species of pangolins, has been heavily hunted and trafficked for its meat and scales, which are believed to have medicinal qualities. The Convention on International Trade in Endangered Species of Wild Flora and Fauna said in 2003 the population was estimated at 50,000 to 100,000, having declined by up to 94 percent since the 1960s.
The International Union for Conservation of Nature listed the Chinese pangolin as "critically endangered" in 2014 on the basis of predicted continuing declines of up to 90 percent over the next couple of decades.
Wu Shibao, a professor at South China Normal University, has devoted himself to pangolin protection since 1995. He said the Chinese pangolin is already commercially extinct in the wild.
"There is virtually no information available on population levels of the Chinese pangolin on the Chinese mainland," he said. "The species exists, but is very rare. I talked to some hunters. Some said they haven't seen wild pangolin for three decades."
Wildlife trade monitoring network Traffic and environmental organization WildAid in September released an overview of the pangolin trade in China. The report said the "illegal trade appears to be continuing unabated".
Traffic China recommended that the Chinese government should upgrade the species from a second-class to a first-class national protected species and strengthen management of the animal.
One of the authors of the review, who wished not to be named, told China Daily that it is difficult to protect the Chinese pangolin, unlike the giant panda or snow leopard.
"The majority of rescue centers or zoos don't even know how to keep pangolins alive, not to mention encourage reproduction," she said. "One of the important ways to raise public awareness of wildlife protection is to show endangered animals in zoos. However, no zoo on the Chinese mainland has pangolins. So most people don't know this species is more endangered than the giant panda."
Wu from South China Normal University is more positive about the pangolin's future. He said the first step is to conduct a national survey of wild Chinese pangolin to provide a basis for establishing reserve areas.
"We have saved giant pandas and Tibetan antelope from the brink," he added.