More babies on planes in sign of second-child policy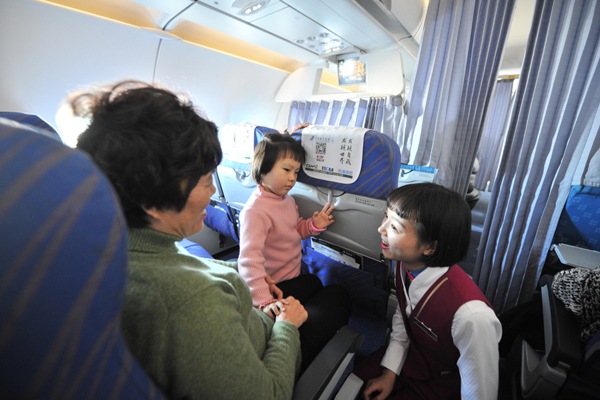 A stewardess talks with a child and her grandma on a plane from Haikou, Hainan province, Jan 13, 2017. [Photo/VCG] 
Air travel statistics show a rise in infant passengers during the Spring Festival travel rush as a result of the second-child policy, Beijing News reported on Tuesday.
Travel agency Ctrip's ticket sales show that the number of babies on airplanes during the 40-day Spring Festival travel rush, also known as "chunyun", has risen 18 percent compared to last year.
The growth in the number of infant passengers is double the increase in ticket sales for children. This trend is linked to the introduction of the universal second-child policy last year which allows all couples to have a second child, the Beijing News reported.
The data also shows that flights to and from Beijing were the most expensive among all Chinese cities, costing more than 2,800 yuan ($400) per ticket. Shanghai came the next with an average ticket price of about 2,600 yuan.
The number of passengers flying first-class or business-class has risen by 131 percent compared to the previous year, according to the statistics.
That is partly due to the difficulty in securing a ticket during the festival travel rush, and partly due to an increasingly higher demand for quality services as a result of Chinese people's deeper pockets.
When it comes to the most sought-after tickets, flights from Shanghai to Hotan, in the Xinjiang Uygur autonomous region, are top of the list. On average, passengers booked flights there 188 days ahead of the departure date.
Tickets for flights from Beijing to Tonghua, Northeast China's Liaoning province, were the next hardest to buy.
In terms of age, airplane passengers in this year's chunyun were, on average, 33 years old, with nearly one third born in the 1980s and about one quarter born in the 1990s.
This year's chunyun started on Jan 13 and will end on Feb 21. The peak for the travel rush is from Jan 24 to 26, right before the Lunar New Year, and from Feb 2 to 4 when the holiday finishes.