Chengdu museum channels ancient Egypt with lantern display
Lanterns depicting ancient Egyptian gods line the Divine Avenue in the Jinsha Site Musuem in Chengdu, Sichuan province. [Photo by Huang Zhiling/chinadaily.com.cn]
It's that time of the year again, when people in Chengdu, Sichuan province, visit the Jinsha Site Museum to see lanterns displayed at the Jinsha Sun Festival.
The festival, consisting mainly of a lantern show, is held each year to celebrate the Spring Festival.
But unlike before, museum goers can find a rich variety of lanterns with ancient Egyptian elements, which are being displayed during the 21-day festival lasting until February 12.
The lanterns feature many gods from ancient Egyptian mythology in addition to those pertaining to relics from the Jinsha Site museum.
Lanterns with Egyptian elements coincide with an exhibition in the museum entitled "Ancient Egypt: World of Pharaohs and Gods."
The 155 cultural relics on display at the museum until May 4 are from the Royal Ontario Museum in Canada.
They are typically used for research and this is the first time they are open to visitors, according to Nick Bobrow, deputy director of the Canadian museum.
The exhibits from his museum include mummies of a woman, cat, bird and crocodile, as well as a marble statue of Cleopatra VII, who was the last Egyptian pharaoh, and ancient bronze weapons.
The Jinsha Site museum is located at the Jinsha Ruins, four square kilometers discovered by accident.
On Feb 8, 2001, builders working on an apartment construction site in Jinsha village found ivory and jade pieces among the piles of dirt.
Since then, archaeologists have excavated more than 10,000 precious relics including gold, jade, bronze and stone wares as well as one metric ton of entire elephant tusks and tens of thousands of pottery and ceramic shards.
The sun bird gold foil unearthed at the Jinsha Ruins is the symbol of China cultural heritage.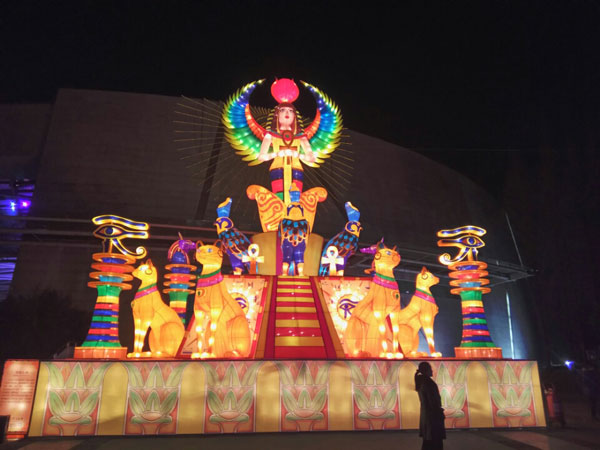 Lantern of the Egyptian Goddess of Fertility is displayed at the Jinsha Site Musuem in Chengdu, Sichuan province. [Photo by Huang Zhiling/chinadaily.com.cn]