Mates for life: Students help disabled classmate for seven years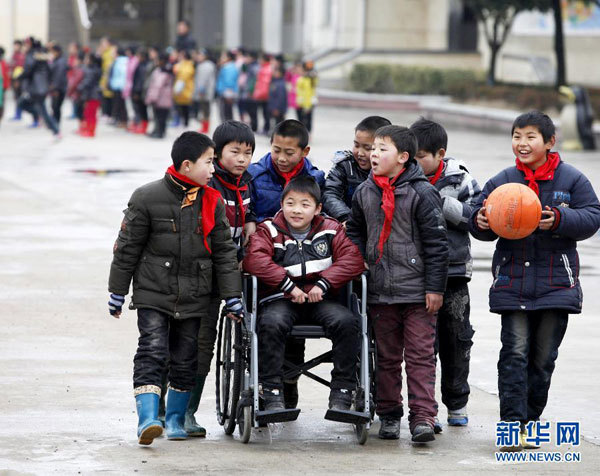 A group of students push Cheng Dongdong in a wheelchair at the primary school at Qiucun town in Guangde county, East China's Anhui province, on March 1, 2012. [Photo/Xinhua]

A group of students have helped their classmate Cheng Dongdong, who is disabled, for seven years at Qiucun town in Guangde county, East China's Anhui province.
Cheng, now 16, was unable to walk after he was diagnosed with amyotrophic lateral sclerosis (ALS), a progressive neurodegenerative disease that affects nerve cells in the brain and spinal cord, when he was seven years old.
"It was in grade 2 (primary school) when I introduced Dongdong's situation to the students and asked if someone would volunteer to help him," said Wang Mi, the headmaster of Cheng's class.
In response, many students raised their hands, and Wang chose eight boys to form a special group to help Cheng. The group would take him to school and bring him back every day, help him at lunch and play with him during the breaks.
After seven years, Xie Chenxu, Liuwei and Liao Jiangtao of the group are still in the same class with Cheng at the middle school of Qiucun and help him. Xie takes charge of carrying Cheng in and out of the wheelchair as he is more muscular.
Later other classmates at the middle school also joined in the group to help Cheng.
Cheng's parents took him to many hospitals for treatment. A Canadian Chinese doctor began treating him and his situation has become better. The ALS is a global medical problem, and there is no cure yet.
In 2014, lots of celebrities joined in an ice bucket challenge in many countries to raise awareness about ALS.