Lhasa celebrates festival of women's protector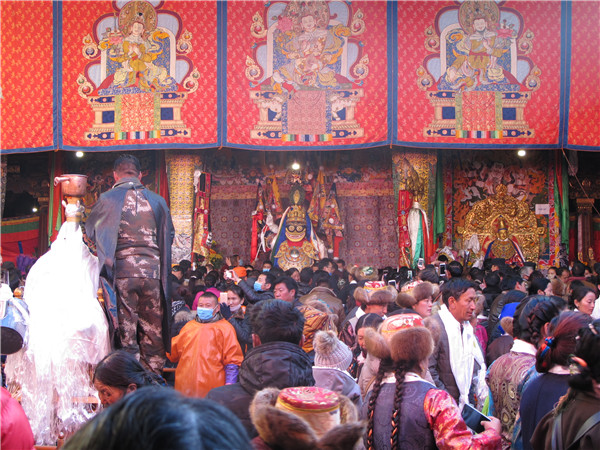 Pilgrims pay homage to the Pal Lhamo deity and the statue of the King Songtsan Gampo in Lhasa's Jokhang Temple on Tuesday. [Photo by Palden Nyima/chinadaily.com.cn]
Yeshi said she herself did not like to participate in asking money from men on this event, however, she was not opposed to other girls doing it.
Yeshi thought it could also be considered a women's day as Tibetans believe the Palden Lhamo deity would come down to earth and the women in Lhasa believe Palden Lhamo is their protector.
She said that in the past, the image of Palden Lhamo would be carried to the third floor outside the Jokhang Temple and then her image would be faced south where the statue of the Trizongzan was enshrined in a monastery on a small mountain in the Drub village.
It has undergone some changes today, as the image of the Palden Lhamo is now carried to the quarter yard of the temple, not the third floor.
"As far as I know, I heard from the monks saying on this day, there are so many people offering barley wine to the Pal Lhamo image, there is so much barley that it is leaking everywhere, it becomes slippery, and it is little bit dangerous for the pilgrimages who come to pay their homage. Secondly it is not good for the preservation of the old temple, so it is carried to the quarter yard today."
According to Tibetan history, the daughter of Palden Lhamo, the Bal Lhamo deity fell in love with Trizongzan, who is also a protective deity of Jokhang Temple.
When this was discovered by Palden Lhamo, she punished Trizongzan by making him stay on the south bank of Lhasa River, and the lovers promised to meet once a year across the river on that special day.